Droit
Dossier
What's Canada's plan for climate adaptation?
The federal government is expected to release its strategy ahead of November's COP27 summit in Sharm El Sheikh. But achieving resilience will take more than targets.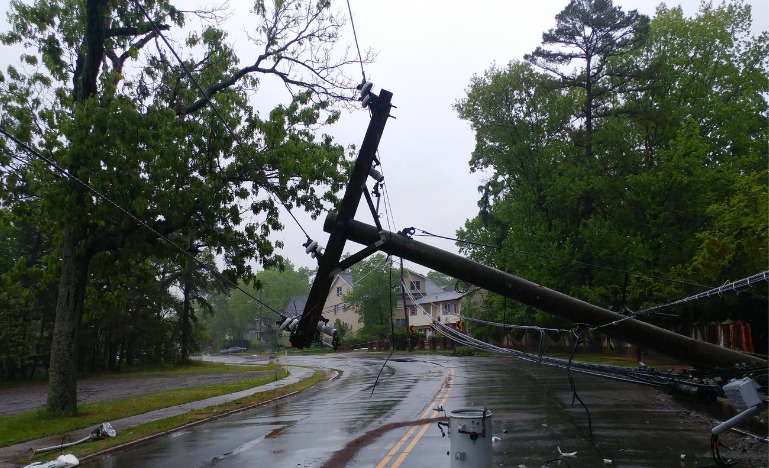 If anyone needed a reminder that Canada is not prepared for what climate change has in store for us, another came ashore with a vengeance last month in Atlantic Canada.
With record low barometric pressure, Hurricane Fiona brought crippling wind and a devastating storm surge that broke water level records at four tidal gauges across the region. It swept houses off their foundations and at least one person out to sea.
Though meteorologists predicted days before – and within 20 km – where the hurricane would make landfall, people weren't evacuated.
"We weren't ready for Fiona," says Craig Stewart, the Insurance Bureau of Canada's vice president of federal affairs. "We aren't ready, frankly, for any of these events that are happening. We need to think way in advance. In other countries, there are mandatory evacuation orders that get people out of the way. We now need to start thinking about who is at most at risk and how best can we protect them."
As with the B.C. wildfires that razed the village of Lytton or the heat dome in the province that killed more than 600 people, Fiona and other storms to come cannot be thought of as one-off events. They're part of a pattern that will continue into the future, yet the events will be unlike those we've ever experienced.
"What we're seeing now is what the models predicted a decade ago," says Stewart, who is also the coordinator of Climate Proof Canada, a coalition of non-governmental, Indigenous, environmental, research and private-sector organizations, as well as municipal governments. Led by the Insurance Bureau of Canada, it's urging the federal government to build a more disaster-resilient country.
"And it's actually happening a little quicker than we anticipated."
For the past 18 months, he has co-chaired the disaster resilience and security advisory table, along with Public Safety Canada – one of five advising the federal government as it develops its National Adaptation Strategy.
The federal government aims to release the strategy ahead of November's COP27 climate summit in Sharm El Sheikh, Egypt. It will outline how the Canadian economy and society can be more resilient and prepared for the impacts of climate change, and is expected to include targets and a national monitoring and evaluation system to measure progress and deliver outcomes.
But is that enough?
Hardly, says Temitope Onifade, a researcher for the Canada Climate Law Initiative and an instructor in climate law, policy, and justice at UBC's Peter A. Allard School of Law.
"It's not just enough to say we're going to report on it, and for obvious reasons. Reporting doesn't necessarily translate into concrete action," he says.
Around the globe, there have been plenty of high-level commitments made around resilience and adaptation, but the implementation has lagged. Meanwhile, the clock is ticking.
"Unfortunately, we are under serious time pressures here," Onifade says. "We need action. We need legislation to set targets for adaptation. Once you have targets, you also need legislation to identify who does what to achieve those targets. You need to identify the institutions that will be responsible for implementing those targets, the specific stakeholders, with clearly defined roles and duties."
The legislation also needs to set out reporting requirements to ensure transparency and accountability to know if adaptation progress is being made.
Right now, we have the Impact Assessment Act, but Onifade says that's just one piece of the bigger picture. While it can address some adaptation issues within the scope of particular projects, it doesn't cover the broad adaptation challenges beyond that.
He says the federal government should look to existing legislation on mitigation, including the Canadian Net-Zero Emissions Accountability Act and the Greenhouse Gas Pollution Pricing Act. While they're not perfect statutes, they're something to build on to get a sense of what equivalents we need for adaptation.
Canada should also look to adaptation legislation in other countries for guidance. It could start by looking across the pond, where the U.K. has a robust legal framework in the Climate Change Act of 2008 – the first law of its kind.
In addition to mitigation efforts and emission reduction targets, the Act requires the government to set clear adaptation objectives. To provide independent oversight, it established the Committee on Climate Change, comprised of subject matter experts advising the U.K. government and its departments on reducing GHG emissions. An Adaptation Sub-Committee also advises the government on how to adapt to the risks posed by climate change. The committee's work involves regular risk assessments, public reporting every two years and ongoing monitoring of adaptation progress.
The Act also gives the government powers to require public organizations and entities to report on their adaptation efforts.
"That gets organizations thinking about compliance and risk management issues," says Selina Lee-Andersen, a partner at McCarthy Tétrault LLP specializing in environmental and Aboriginal law. "Once you put it in a regulatory space, organizations will start saying, 'Oh, this is a potential compliance risk, so we better think about these issues.'"
In the United States, the National Climate Adaptation and Resilience Strategy Act also aims to put a framework in place so that there is a consistent approach across departments to deal with climate-related impacts.
"We could definitely benefit from a more coordinated approach in Canada," Lee-Andersen says. "And dedicated resources. Right now, it's piecemeal and ad hoc, which is maybe not the most effective way to approach adaptation."
She says having a central agency to coordinate adaptation efforts and a chief resilience officer accountable for reporting and information sharing is important. Many OECD countries have long had an entity to coordinate adaptation efforts, and in that regard, Canada is an outlier.
According to Stewart, once the strategy is finalized, the government will need a plan to implement it, which will take central leadership.
"We absolutely need an entity that is mandated to deliver the federal action plan and to coordinate action across provinces and territories and Indigenous governments and the private sector," he says.
"That entity should reside within the Privy Council Office, which is the prime minister's own department, at a senior enough level that it is empowered to drive action over the short term."