The practice
Young lawyers
Find your niche
Find a mentor, work hard, develop your passions, and other practical tips to carve out the practice you want.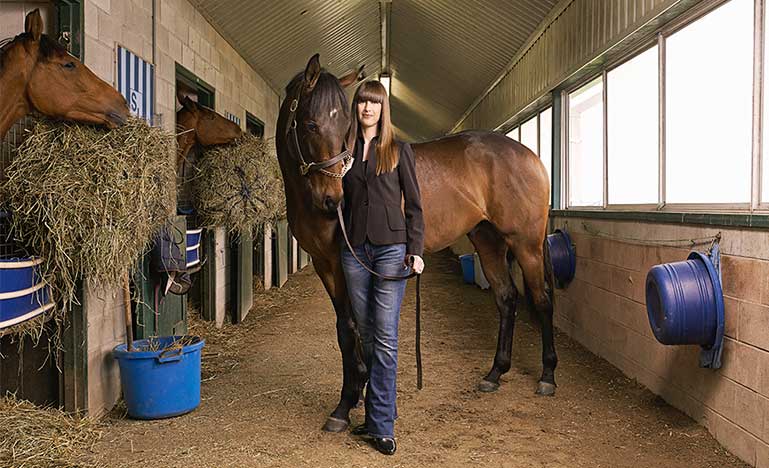 Launching a niche area of practice can allow lawyers to pursue their passions.
Jennifer Friedman, a Toronto-based animal lawyer, has a long-standing interest in animal law or, as she calls it, "giving a voice to the voiceless."
Before launching her firm in 2016, she was the first legal counsel for the Ontario SPCA and also worked as a lawyer for the Ontario (Horse) Racing Commission.
"Animal law touches on every type of law," says Friedman. "When I get calls on a daily basis about different files, it runs the gamut between anything from dangerous dogs to horse racing to ownership whether it's regarding a breeder or a shelter, a custody dispute, veterinary malpractice. I've been called upon to draft bylaws. It's really quite interesting."
Paul McGivern, Q.C., a medical malpractice lawyer who specializes in birth injuries, says that medicine has been a life-long interest for him.
In his youth, McGivern thought he might become a doctor like his father, but his older sister inspired him to apply to law school.
Now a practitioner at Pacific Medical Law in Vancouver, McGivern says he developed his interest in medical malpractice early in his career.
"I loved doing the medical work. I loved learning the medicine," he says.
McGivern's passion for learning made him gravitate toward the most complex medical malpractice cases. Catastrophic birth injuries are challenging for a variety of reasons, he says, not least of which is keeping up with medical developments. Thirty-seven years into his practice, McGivern still attends, annually, conferences for medical professionals -- obstetricians, perinatologists, radiologists.
He knows his line of work is not for everyone. "A lot of people say to me, 'How can you do that job? What a terrible job' because you are dealing with people who have suffered catastrophic injuries. Even if you win, there is no good result. People are still catastrophically injured," he says. "But I enjoy the academic side of the work. I enjoy the challenge of the work."
Not all lawyers start out knowing what their niche will be. Harris Rosen, a regulatory lawyer specializing in private career colleges, fell into his line of work "more by accident than design."
Rosen, who is also Friedman's spouse, developed his niche starting in 2003, after meeting his future collaborator Alan Wolfish, Q.C., the former legal director at the Ontario Ministry of Education.
"Allan just turned to me innocuously and said, 'Private career colleges, that is where the future is for lawyers because there is really nobody doing that,'" says Rosen. "I literally turned to him and asked, 'What's a private career college?'"
Since that time, Rosen and Wolfish, now retired, have written two editions of Carswell's legal textbook on Ontario's Private Career Colleges Act. Rosen has represented investor groups looking to navigate the regulations surrounding the purchase and registration of private career colleges. He has also represented several large law firms as regulatory counsel in their acquisitions.
Our three lawyers offered up the following advice on developing a niche.
Find a mentor
"Reach out to as many people as possible in those particular areas in which you are passionate," recommends Friedman. "Don't give up if you don't get the answer you are looking for. And don't be timid following up with people."
McGivern recommends that lawyers seek out a more senior lawyer. "You need to work with someone senior who has some grey hair -- who knows the ins and outs, and knows the subtleties and the difficulties and understands how to get around those difficulties," says McGivern. "As defence counsel, I was successful in defending a lot of cases. And in many cases, it was because the lawyers on the other side just didn't have the medical background or the legal background to figure out where the defence was coming from."
Don't be afraid to take risks
"With the smaller areas of law, it's about being creative and taking a calculated risk to pursue a more niche area of practice," advises Friedman.
Look for emerging trends in the law, says Rosen, who says his practice area gone through tremendous change over the last two decades. "Don't fear carving out a new practice area if it does not yet exist," says Rosen. "If you don't want to be a generalist and work in a big team environment and you want to carve your own niche, go and take it."
Work hard
"My advice to young people who want to run a niche practice is to do great work, know everything there is to know about not just the law, but the sector you are representing," says Rosen. "Work hard to get to know the people and the nuances of the area that you want to carve out. Look at the demand in that area."
It's especially true in a complex area like medical malpractice, says McGivern. "We work very hard at being the best that we can be, which means understanding the law and understanding the medicine," he says.
Develop your passion
"It's important to focus on an area that you are really interested in," says McGivern. "Do something you are passionate about. Do something you feel really interested in. And do it with people you really like."
"I have been in practice for more than 40 years now, thoroughly enjoying what I do. I think that 90-plus per cent of my classmates from my graduating year in law school have retired, and I have no interest in retiring at all," adds McGivern, who graduated in 1979. "I love my job. I think I have the best job in the world."