Law
Judiciary
So you want to apply to be a judge?
It can be daunting, especially for members of equity-seeking groups. But a recent CBA webinar provides some valuable insider tips for potential candidates.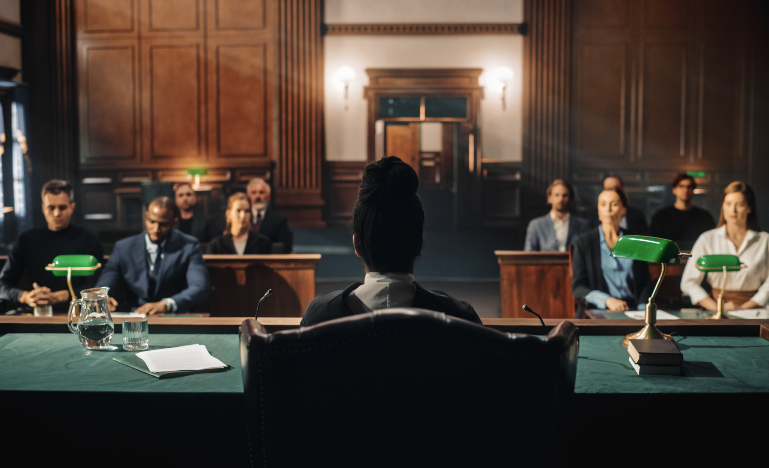 "Having diverse voices and people of diverse backgrounds on the court is very, very important for institutional legitimacy," says Supreme Court of Canada Justice Mahmud Jamal in a webinar on diversity on the bench, presented by the Canadian Bar Association's Equity Subcommittee. "Canadians who are judged need to see judges that look like them, whether that's women, visible minorities, Indigenous people."
Jamal, who was born in Africa and is of South Asian descent, encourages lawyers from diverse backgrounds to consider applying to the judiciary.
But he acknowledges the application process can be daunting for many candidates. "It is a very detailed form," says Jamal, also the first racialized person appointed to Canada's top court. "Just the data takes a long time. It's not something you can do over a weekend."
"Then there are essays which require research, reflection, drafting and then editing."
What people say matters
Justice Russell G. Juriansz, who recently retired from the Ontario Court of Appeal, adds that there are many qualities that committees are looking for in recommending a candidate for the judiciary.
"A good candidate will have solid legal experience — either broadly based or in a narrow [area of] expertise. They'll have excellent legal analytical skills. They'll have a demonstrated ability to resolve complex legal problems, and they've got to show that they can write clearly," says Juriansz, who is an Indian immigrant and the first racialized person appointed to the Ontario Court of Appeal. "They have to have diligence in fulfilling their responsibilities. They have to have unquestioned integrity. They have to treat others courteously and fairly. They have to be capable of exercising great patience."
The application includes six primary references and a maximum of 10 secondary references.
Taken together, references should speak to all the qualities that will make a candidate a good judge, Juriansz says. For example, references could include an assistant or a co-worker they supervised to speak to their ability to treat people fairly. A colleague could speak to the candidate's legal and analytical skills.
To prepare for an application, Jamal recommends focusing on more than just legal skills.
"Do things you enjoy, get out into the community, speak at conferences, write articles," recommends Jamal. "Getting out of the office has a lot of benefits. It will help your mental health. It will give you a better connection with the broader community and, down the road, it may lead to something."
Justice Sandra Nishikawa of the Ontario Superior Court of Justice also emphasized the importance of pursuing interests outside of the office.
"Seek out opportunities to speak on issues that matter to you because that's going to be more fulfilling, more interesting; you'll have more passion for it. If speaking isn't comfortable, start by writing," she says. "You'll be seen as having expertise."
Being authentic
Justice Harry Smith LaForme was first appointed a judge in the Ontario Court of Justice in 1994.
LaForme, who is Anishinaabe and retired from the Ontario Court of Appeal in 2018, says he was appointed to the bench in an era where people were encouraged to keep quiet about their diverse identities.
"I was actually proud of who I was. But whether you were proud of it or not, back in those days, people cared," he says. "We don't live in that same world anymore. We are at a time when the authentic nature of your answers means something. You should, in every case, be as authentic as you possibly can."
Nishikawa says that candidates should avoid catering their careers to a judicial application.
"Focus on the things that are meaningful and matter to you. Find a way to build a profile that seems authentic to you," she says. "It's not just the path hopefully to the bench; it's the path to developing a meaningful career."
Manitoba Provincial Court Judge Kael McKenzie, the first transgender judge in Canada, says he included his gender identity in his judicial application.
"I know that diversity, equity and inclusion are big factors for the application process. It allows you to show that you are living with your authenticity," says McKenzie, who is also Métis. "I've been pigeonholed as a diversity person, but instead of shying away from it, I've embraced it."
Being prepared for challenges
As the first Indigenous person in Canada appointed to an appellate court, LaForme says he sometimes felt lonely.
"There is a part of you that wants to talk about who you are, where you come from, what issues involve your community," he says.
McKenzie says when he was appointed, he heard from every trans judge in the world because there are only a handful of us. "Seven years later, I'm still the only trans judge across the country. It's a bit lonely," says McKenzie.
Some diverse judges face additional scrutiny from people who assume they were only appointed because they are a minority, says Nishikawa recalling times when people, including court workers, did not perceive her as a judge.
"While those incidents are minor on their own, it does lead to the sense of imposter syndrome," says Nishikawa.
Then, of course, the work itself is challenging.
"I don't think I appreciated, before I applied, how hard judges work," says Jamal. "I don't think it would have changed my decision to apply, but it's certainly something I've come to appreciate more and have great respect for the commitment that people make when they become judges."
"It is not an easy job. It is constant writing, reading, analyzing."
However, LaForme says that his experience in the judiciary and being a role model for other Indigenous people brings him "tremendous feelings of pride."
"These people come up to me and say, 'You are the reason I went to law school,'" he says.
For more accredited Canadian Bar Association online sessions on equality, diversity and inclusion visit the webinar site.