Law
Access to justice
Why the experiences of trans people with the legal system are so often negative
A new CBA report highlights barriers to access to justice for trans people and what needs to be done to remove them.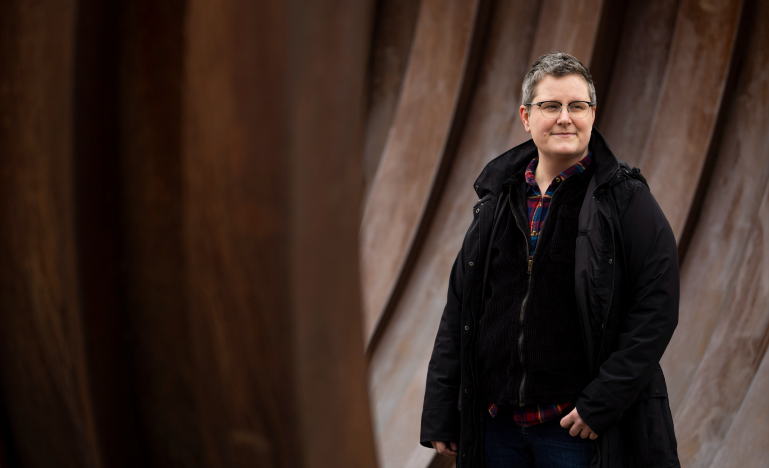 The report, Access to Justice for Trans People, reveals that a growing number of trans people are speaking up about the challenges they face in accessing justice. Despite their resilience, they are among the most disadvantaged groups in the country. They are also at a higher risk of experiencing discrimination, harassment, and violence in other areas of their life — in seeking healthcare, housing or at work. Part of this is due to the systemic barriers embedded in and created through rules, policies, laws, regulations, systems, programs, and organizations.
The report comes from the CBA's National Access to Justice Subcommittee and Sexual Orientation and Gender Identity Community (SOGIC) section in coalition with the HIV & AIDS Legal Clinics Ontario (HALCO) and the TRANSforming JUSTICE research team. Drawing on lived experiences of trans people, it includes several recommendations that cut across the legal system.
Most notably, the report underscores that legal and administrative systems are often the source of legal problems in the trans community, rather than offering a solution to them. Trans people face more co-occurring legal problems, sometimes due to unresolved issues, which can cascade and multiply to create more legal and non-legal challenges affecting all aspects of life. At other times, the problems result from the legal system itself.
Lee Nevens, SOGIC BC's co-chair, illustrates how this can happen, beginning in the workplace. "You're being discriminated against because you're trans, and you're trying to resolve that issue, which could lead to elimination of your income, which can then lead to a housing problem and so forth," says Nevens. "The problems can domino from there."
Nevens is a litigator for the Department of Justice Canada in Vancouver and the first openly transgender and non-binary lawyer elected to the board of the CBA-BC Branch. They say bias, be it unconscious or conscious, is often at play. But it takes work to identify it.
"Sometimes it's hard to prove that somebody is being transphobic when they're talking about other reasons, even though you know how they're behaving towards you and the bias really is at play," they said.
It's not surprising then that trans people are less likely to formally act on their legal issues, partly due to a lack of financial resources as well as trans-competent legal service providers. Their experiences with the legal system are often negative.
Due to mistrust, many also feel unsafe reporting or acting on a legal issue. According to Nevens, issues are intensified for trans individuals with intersecting identities, including those who are Indigenous and Black. Their experience can instill a well-founded fear of interacting with the system that has caused them or someone they know to experience physical harm or discrimination.
Nevens says similar challenges can extend to legal professionals working in the system. Issues can include problems getting ID changed to reflect correct genders or new names. Court proceedings don't always recognize and acknowledge people's pronouns and titles, which increases the chances of misgendering people. In other instances, the misgendering is entirely intentional.
The report calls for all actors in the legal system to be educated on trans identities, and for there to be access to accurate, trans-specific legal information and services, as well as course-corrective measures to improve trans inclusion in public organizations. It also recommends supporting, mentoring, and funding legal training for trans people so they can lead initiatives that affect their communities.
Other recommendations include employment equity and criminal law reforms and creating inclusive courts and administrative tribunals.
"Trans people should be able to access the legal system without fear of being forcibly outed, experiencing assault, misgendering or misnaming. Courts and tribunals should be safe for trans people to work at or interact with," the report reads.
Nevens says they're satisfied with the breadth of the recommendations as they suggest taking a broad approach to root out systemic barriers. However, they say, "it's also a little disheartening and overwhelming to see how much change is needed, and how deep and vast the problems are that we still need to address."
Nicole Nussbaum, who acted as project lead with TRANSforming JUSTICE, says there's also a need to look at things much more deeply.
In particular, she says, we need to understand better how the system causes harm, systemically and structurally.
"We have to recognize that our systems have not adapted meaningfully to so many different changes to the diversity of our society on so many different levels," Nussbaum says, noting what's needed is a reckoning, not a discussion.
"We should be able to recognize how harmful that is and recognize the harms that causes in society that then cyclically fuel re-involvement or involvement with the compulsory parts of our legal system and push people away from engaging with the voluntary aspects of our legal system.
"It's all good when the system wants to do something to you, but when you want to go to the system for help, it doesn't often offer the help you need."
So, where to begin?
As a member of the LGBTQ2S+ community, CBA President Bujold has made addressing the inequalities and discrimination experienced by the members of the community and, more specifically, by non-binary and trans people in Canada one of the priorities of his term as president.
"Canada has seen a notable increase in access to justice research over the past two decades, but trans peoples' experiences with legal problems and the legal system remained largely undocumented in research until recently," says CBA president Steeves Bujold.
"Having this data and these recommendations is a positive first step and will be used as a starting point for discussions on how we can improve access to justice for trans people."
In this vein, the CBA decided to establish an advisory group to lead and inform association initiatives that have an impact on trans communities. It will begin its work in the coming year.
"As leaders in the Canadian legal community, lawyers have a duty to defend and protect the rights of everyone in our society, especially the most disadvantaged people with the greatest need," Bujold says.
"We need to continue to have this important conversation, we need to listen, to learn, to reach out so that we can make our justice systems inclusive for everyone. We all benefit from the incredible opportunities that come from a fully engaged and inclusive society.