The practice
Small and solo
Helping self-represented litigants find their voice
Three lawyers who work as legal coaches share their experiences improving access to justice.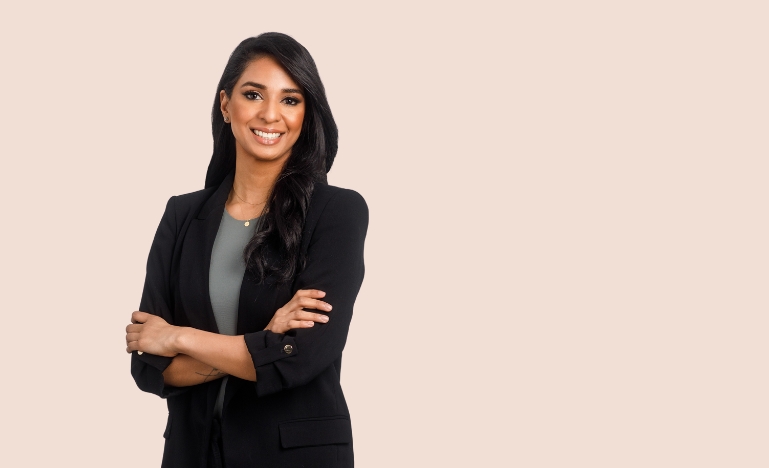 It's no secret that self-represented litigants struggle when grappling with complex legal procedures and unfamiliar jargon. However, a growing solution is emerging: legal coaching. By providing guidance, support, and a roadmap to those representing themselves, legal coaching also offers a unique opportunity for lawyers looking to offer more services to the public while also increasing access to justice.
A legal coach is a trained legal professional who works to empower clients to represent themselves by providing them with legal advice and assistance.
Chyanne Sharma, a family lawyer with Crossroads Law, has worked as a legal coach since she was an articling student.
"I'm passionate about helping self-represented litigants find their voice," says Sharma, who is based in Vancouver. "I want to make sure they are empowered throughout the process — especially in family law because it's a very draining and emotional area."
As a legal coach, Sharma assists self-represented litigants with preparing for court appearances, applications, negotiations, mediations and planning their case strategy.
"Basically, anything that they need within their family law matter," she says.
Andrew Di Lullo, a Toronto-based lawyer with Listrom Di Lullo Professional Corporation, says his requests for legal coaching come from people who need assistance with topics ranging from landlord-tenant issues to the small claims process and neighbour disputes.
"I can give them a roadmap to follow and advice on what strategy might be best to reach their goals," he says.
This roadmap for clients is one of the greatest values a legal coach can provide, according to Di Lullo.
"Lawyers learn in law school how to project what the outcome of a situation ought to be," he says. "If you have the idea of what the outcome should be and what path you should be taking, you can follow that along as a map. If you don't have that roadmap and that overall strategy as a self-represented individual, then you can't know that you're going off the rails until perhaps it is far too late."
Legal coaching forms part of Di Lullo's legal practice. He says that through the legal coaching process, some clients decide that they need additional legal assistance.
"People will assume that they are capable of doing it on their own. But when they get a little bit of legal coaching, sometimes they realize that it's beyond their capabilities," he says.
Di Lullo says that one of his goals is to identify and advise clients when he recommends they obtain full-scale legal representation.
"If the situation is too complex to see a clear path forward, then I'm able to advise them of that, and then they can decide themselves whether or not this is in their wheelhouse to do the legal work," he says.
Parisa A. Jiwa provides legal coaching services in wills, estates, and landlord and tenant disputes and works as a lawyer offering full-scope legal services.
Jiwa, a lawyer and legal coach with Calgary Legal Coaching, says that sometimes clients initially want coaching services but will hire her for a full-scope service when it comes to a trial.
Sharma also offers a combination of legal coaching and full-scope lawyer services.
"As a full-scope lawyer, you have the control and you maintain the control with instructions from your client," she says. "But with self-represented litigants, you work with them, and that allows them to have control of their own matter. You're there as a guide and assisting them where they need the assistance."
Some of Sharma's clients have also transitioned from full-scope services to coaching.
"It goes both ways," she says. "Sometimes, with my private files, the client will say, 'The cost is too much. Can we switch and go to legal coaching and you help me with that?'"
Sharma has taken the step to become a certified legal coach through the Legal Coaches Association.
"Getting certified gave me that knowledge of what to expect and how to work with self-represented litigants," she says. "It is quite different from how you work with your clients as a full-scope lawyer."
According to Jiwa, legal coaching also has the advantage of increasing access to justice by providing self-represented litigants with an option to obtain some legal services at a lower cost.
"You never want justice to just be for the rich," she says. "Legal coaching is a step towards closing the gap." It's a way to create a more equitable system where self-represented litigants can know their options, effectively present their case and achieve a fair outcome, she adds.
And it caters to people who are unable to afford full-scope legal services but do not qualify for legal aid.
"Through legal coaching, we are providing a wider range of services to individuals to fill in those gaps," she says.
Di Lullo says that legal coaching is "fundamental" to access to justice. "I don't think it's possible to continue to have a legal system which operates solely with legal professionals as gatekeepers," he says. "Legal coaching is now one of the array of options available to the public."
The increasing demand for legal coaching may also be due to the increasing sophistication and capabilities of the public, says Di Lullo.
"There are a number of tools available for researching and form filling and document drafting, so the public is now better able to take on more of the tasks," he says.
In the future, Jiwa says that she hopes the legal community and the judiciary will learn more about legal coaching and its advantages for both self-represented litigants and the entire legal system.
"There is still a lot of education that needs to happen," Jiwa says.