The practice
Small and solo
Preparing to return to the office
At risk of burning out from the lack of boundaries between their professional and personal lives, many lawyers are looking forward to getting back to normal. Sort of.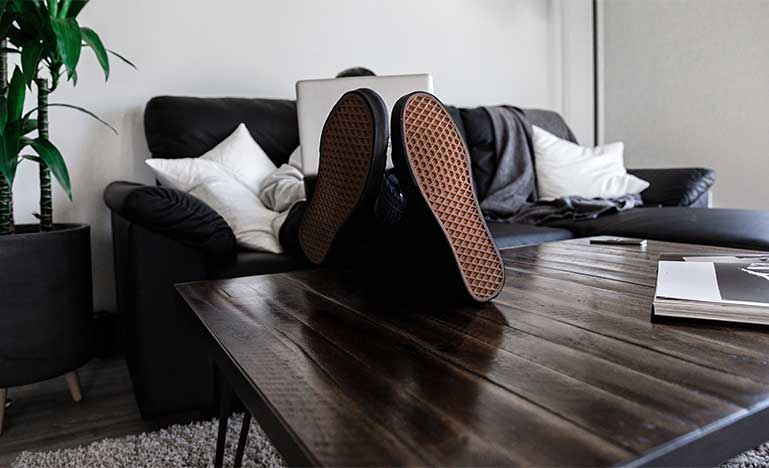 In the early days of the pandemic, Jeffrey R. Burgess and his wife both began working from home while their children were remote schooling.
"It was an interesting experience, to say the least," says Burgess, a corporate and commercial lawyer based in Saskatoon. "For the first six or seven months of the pandemic, I was working from home and I was in tight quarters where I had everything from my printer, my scanner, extra monitors, bankers boxes, stationary supplies, trust cheques, all my accounting records all within a five-foot radius."
Max Wolinsky, a business lawyer and the managing partner of Murphy & Company based in Vancouver, says that many lawyers had similar difficulties adjusting to working from home.
"Working as a lawyer during the COVID pandemic has been really challenging," he says. "I think if you get a candid answer from most lawyers about how we are doing, a lot of us are really burnt out and had a tough year."
Even before the shutdown, lawyers worked long hours and struggled to set boundaries between their professional and personal lives, says Wolinsky.
"With the rise in working from home arrangements and the travel restrictions, lawyers in general became worse at taking personal time or vacation," he says. "That has had a cumulative toll on the profession."
Not that there hasn't been an upside. Greg Allen, a partner with Allen McMillan based in Vancouver, says working remotely was a big adjustment initially, participating in hearings online, running discoveries, interviewing clients. But he came to appreciate its benefits. "Once I had that adjustment under my belt, I enjoyed working from home exclusively and working remotely," says Allen, a civil and commercial litigator. "I get more time with my spouse. I don't have to commute. It's been actually quite nice to be in my home office rather than the regular office."
Now Allen works primarily from home and goes to the office once a week though he expects to commute three days a week once he is fully vaccinated.
"We always tried to be very flexible with our lawyers, but I think we were trapped in the mindset where support staff was an on-premise job," Allen says. "We learned through the pandemic that you don't necessarily need to be on-premise to do a legal assistant or a paralegal job. People have been doing it from home now for over a year, and they have done a great job. I think we will have more flexibility with staff, and we will try to maintain the flexibility with the lawyers going forward."
Positive impact on business
The pandemic also had an impact on Burgess' practice as a business lawyer in Saskatoon. "When COVID hit, transactions ground to a halt. All of a sudden, everybody said that they were going to pause -- cancel a project, not buy a business, not sell a business," he says. "But instead, in the first couple of months, what replaced that work was frantic calls from clients looking for advice and guidance on how do they transition their business during this pandemic, how do they deal with their employees, what is the latest on government support programs."
Since the fall of 2020, Burgess says that his law firm has been exceptionally busy -- so much that he is planning to add staff to increase his capacity.
"It's a little bit like drinking out of a firehose," Burgess says.
According to James Struthers, a lawyer from Vancouver, the pandemic radically changed the way he practises law. In the early days, Struthers worked from home for a larger law firm. A few months later, he left that job to start his own firm, Macusha Law Corporation, which he describes as "digital by default."
"This would not have happened without the pandemic," says Struthers, who specializes in corporate, commercial and real estate law. "There is a huge fear with lawyers that we can't do what we do without having an office or without having a physical space or being there all the time."
Struthers says that watching everything from the courts system to the land registry adapt was proof that major changes were possible.
"It was fundamental in changing the way that we practise law and I think that it is going to stay," he says.
Adopting technology and hybrid models
Struthers is also the founder of 253 Columbia, named after its civic address in Vancouver, where lawyers can rent private workstations, meeting rooms and buy office services. "It's meant to be a hub for lawyers who only need a space some of the time to keep their costs down. 253 is imagining a world where people don't need an office space all the time, but when they need it, it's here," he says.
The rapid adoption of new technology in the legal profession is the pandemic's "silver lining," says Wolinsky, adding that it's something it should have done "years ago."
Burgess says that he plans to use video technology in his practice in the future even if he suffers from some Zoom fatigue. "We have trouble with sound; people forget to mute, they forget to unmute," says Burgess. "But for routine consultations or communications, then I will certainly use Zoom and Teams going forward because it is efficient from a scheduling standpoint."
The bottom line, says Struthers, "it is easier to manage the flow of your work if you are in one place [...] With a click of a button you can set up a meeting. You don't have to travel. You can fill all of the time that you've saved with other legal work or non-billable work or pro bono work."