Law Matters
The practice
Legal education
Building relationships with students online
The opportunity to innovate how we teach in a virtual environment has been one of the positive outcomes of the pandemic.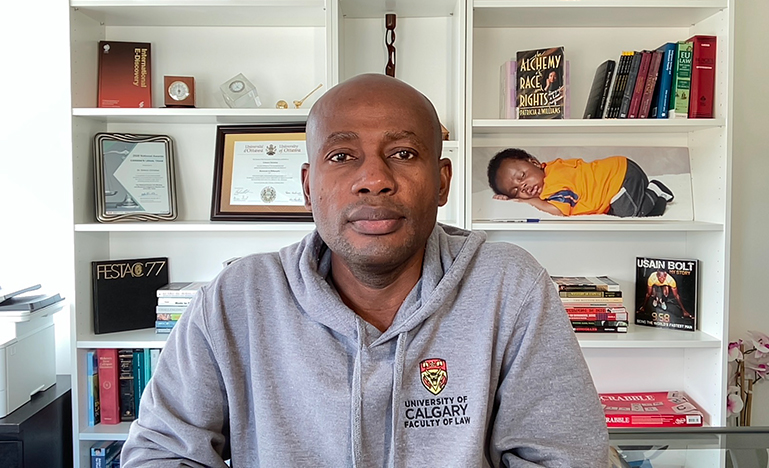 In teaching, it has always been my philosophy to provide a conducive learning environment for my students, and it was no different when teaching moved online during the pandemic. I believe that it is a teacher's moral obligation to give students the assistance they need to not suffer adverse impacts. Before the pandemic, students needed reasonable accommodations for a number of reasons. Student athletes who from time to time couldn't attend class in person because of engagements with the University teams could count on me to provide them with the lecture content in another way e.g. audio record of lectures. It was the same for students participating in job recruits. I let this approach guide me in online teaching.
The main adverse impact that I faced in the Faculty of Law was having fewer personal interactions with my students. As a teacher, I cherished that interaction, meeting with my students one-on-one in the office, or having informal chats in the hallways of the faculty. The pandemic took that away. I thought that isolation and the loss of relationships could adversely affect the students' education and their academic performance. So this was a negative impact that, for their sake, I tried to minimize using video conferencing tools like Zoom.
I teach civil procedure, legal ethics, and e-litigation. My background as a lawyer with the federal Department of Justice is in technology law and e-discovery. It wasn't as much of a challenge for me to use technology to teach and work. I welcomed the opportunity to innovate. The bigger challenge was to make my classes – especially my two mandatory courses – as cordial as they could be, and interactive.
I felt it was important to be friendly to my new students from the get-go and stoke our initial relationship. Before beginning the semester, I made a short video message on YouTube which I shared with the students. I introduced myself to the students and tried to reassure them of my commitment to their success, notwithstanding the changed learning environment arising from the pandemic. I shared how I hoped we could work together to make sure the changed environment could work for us all. So in the first class, we weren't strangers.
In the first lecture, I tried to build the relationship more by splitting the students into breakout rooms, with the assignment of finding at least five things they all had in common. Having started a conversation amongst them, I expected they'd participate more freely. And as time went on, I did find that the class was very interactive. Making the most of the chat feature on Zoom, overall, I saw an uptick in participation.
In keeping with my teaching philosophy of a participatory class environment, I sometimes relied on cold-calling to promote participation. I did so, taking into consideration students who may have genuine psychological conditions so as not to complicate their situation. I'm also sensitive to the fact that high-speed internet is a luxury for some, even in Canada. Not all students have access to the high bandwidth for virtual classes and can keep their cameras on. So while I encouraged students to have their cameras on, I didn't make cameras mandatory.
I do believe that the virtual environment is in many ways the future of legal education and legal practice, and especially of litigation. I see the pandemic as having forced a change in my approach to instructing, and to innovate for the sake of the students. For me, that innovation has been the most positive outcome of teaching online.