People
Q&A
Interview with David Lametti
CBA National caught up with the Justice Minister and Attorney-General in his riding office of LaSalle-Émard-Verdun. He spoke to us about the government's plans for medical assistance in dying, advancing Canada's Digital Charter, and implementing UNDRIP.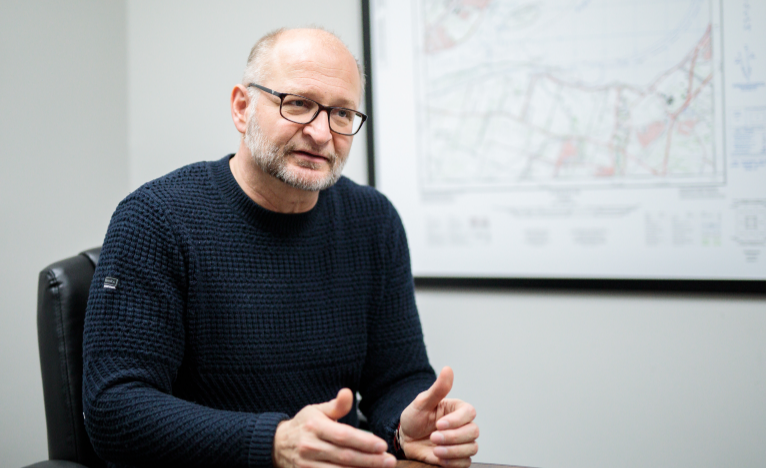 Note: The Minister of Justice will be addressing CBA Members at the 2021 CBA Annual Meeting. Register here.
CBA National: Near the top of your to-do list is amending the law on medical assistance in dying. How do you see that unfolding in terms of timelines?
David Lametti: The first critical date is March 11, and we need to have in place a process that allows us to address the Quebec Superior Court decision in Truchon about the reasonable foreseeability of natural death criterion. Then there's the statutory review of medical assistance in dying that was scheduled to begin in June 2020, at the beginning of the fifth year after promulgation of the legislation. So we have that larger review that is still in place. The process is going to have to fit into all of those various parameters.
N: What's the biggest challenge in addressing Truchon from a substantive point of view?
DL: The single overarching difficulty is you're dealing with people who are seriously ill and suffering. And you're dealing with support families — other people around them who are in a very traumatic, emotional place. In addition, people are living with disabilities who see medical assistance in dying as an existential threat. So, the reasonable foreseeability of natural death criterion was seen by that community as a safeguard. If we remove that — even if the whole discussion is framed around individual autonomy — we have to have sufficient safeguards in place, so that community of people living with disabilities does not feel vulnerable. Ultimately, we feel strongly that it's about autonomy, but we are going to listen carefully and look at safeguards.
N: What about minors?
DL: Minors, advance requests and the mentally ill are the three overarching issues that were identified as subject matter for the 2020 review. Again, those are really difficult issues. Plus, there are other ethical issues, and societal views about how we see life and death. Will that be a part of the Truchon analysis? I'm not going to say for certain right now. But it's easier to leave it for the larger review in June 2020.
N: What would you consider to be a successful implementation of UNDRIP, another major item identified in the mandate letter?
DL: Implementing UNDRIP is a process. Reconciliation is a process. And I will define success by moving forward expeditiously on as many fronts as possible. British Columbia has passed legislation implementing UNDRIP. We're watching that very carefully, and we're going to take that approach into consideration. I'll work with my colleagues, [Crown-Indigenous Relations Minister] Carolyn Bennett and [Indigenous Services Minister] Marc Miller on that. We will consult widely with First Nations' leadership, with Métis leadership and with Inuit leadership, as well as others across the country who have expertise. I think we've already begun in a certain practical way to move that envelope forward. Both Bill C-91 and C-92 important substantive steps toward reconciliation on indigenous languages and child welfare. But they were also critically important because, in both cases, the laws were co-drafted with Indigenous leadership, which is consistent with what UNDRIP requires us to do.
N: How are we going to give Canadians real privacy control over their data, and is there a model out there in the world that seems to be working that we want to follow?
DL: We began with the Digital Charter about a year ago, which articulates a vision of consumers and individuals having more control over their data. It really will be a government approach, as the privacy picture touches at least half a dozen different ministries. It's within the mandate [of Innovation, Science and Economic Development Canada] to reform PIPEDA; it's within the Justice mandate to look at the Privacy Act. Certainly, there are interesting models out there. The European GDPR model is one that is of interest, and we have been looking at that for a while. In the UK, there's a more ambitious approach, with respect to the powers that the privacy commissioner has. All of that is on the table.
N: Do we need to give the Privacy Commissioner more enforcement powers?
DL: I'm going to content myself with saying that the discussion is on the table, without committing the government to a position. Again, it's in my mandate letter. It's in Minister [Navdeep] Bains' mandate letter. It's in [Heritage] Minister [Steven] Guilbeault's mandate letter, to name just three. So a number of people are going to have input at the table, and I don't want to predict how it's going to go, but all of these issues are critically important.
N: Absent from your mandate letter is addressing mandatory minimum sentences. Can you comment on that?
DL: One, as Minister of Justice, I have a responsibility to continue to look at the criminal justice system, and sentencing reform is a critical part of that mission. So, it's not in a mandate letter, but it's not off the table, in that sense. The second point is we're in a minority Parliament. The Prime Minister has specifically asked in my mandate letter that we be open to areas of collaboration with other parties across the aisle. And I will continue to do that. I know that this is [an issue] of interest to other parties across the aisle, as well as people in the Senate.
N: Will legislation around mandatory training for judges on sexual assault be reintroduced in the same form as Bill C-337, which stalled before the election?
DL: I'm not 100 per cent sure about the form, but it will be reintroduced.
N: Should public stakeholders outside of the judiciary be involved in determining the development of judicial education?
DL: I think the best way to frame the answer is, "how do we have the best trained judiciary possible." We respect judicial independence, and we have worked quite closely with the Chief Justice and others in the administration of the judicial system to try to have a better court system. We'll continue to do that.
N: You've also been mandated to work with provinces and territories to provide free legal advice and support to survivors of sexual assault violence. Shouldn't we be extending greater access to justice to a broader group of users of the justice system, such as other victims of violent crimes, but also the accused?
DL: It is an overarching goal to make the system better for everybody who comes into contact with it. It is also appropriate from time to time to focus on segments of the population with a specific kind of contact with the justice system, to advance goals. And this is an example of that. This is focusing on a group of people — survivors of sexual assault — who have had a particularly negative interaction with the criminal justice system. We want to try to make that better and offer more support.
N: You've been mandated to develop options and legal remedies for victims of hate speech. What is that going to look like?
DL: Again, it's hard to be speculative, but there is a problem. Social media, in particular, has allowed for the instantaneous dissemination of hate speech, and that makes existing legal provisions in the Criminal Code provisions tough to apply quickly – and then the damage is already done. And so, in the online context, are there a series of remedies that might be available? One obvious private remedy is [the former] Section 13 of the Human Rights Act, which was removed. Should we put that back? It can be part of the solution by allowing individuals to have some kind of recourse where they don't want to bring charges in the criminal justice system. My predecessor, Irwin Cotler, had suggested changes to Section 13. Should we consider those kinds of suggestions? Should we make platforms more responsible for hate speech? Other countries have a model where hate speech has to be taken down, and then ultimate determinations of criminal culpability can be done later. There's a balance there with free expression that would have to take that into account, too.
N: In her report last year, Anne McLellan recommended that as a matter of public accountability, the attorney-general and heads of prosecution services should be less reluctant to discuss decisions made about specific prosecutions that raise significant issues of public interest. How are you going to approach that recommendation?
DL: We've committed to implementing the McLellan Report. The person who sits in this chair must understand that the two roles [of Justice Minister and Attorney-General] are different. And it's incumbent on me to make sure that people understand to whom they are speaking and what role I am speaking in at any given moment. The McLellan Report has a number of different good proposals for formalizing aspects of that relationship, and I support them. If we can implement some of those formal mechanisms for communication, then it probably does enlarge the space that enables us to speak publicly on certain issues. But there's groundwork that needs to be done first.
N: What's the challenge involved in speaking more transparently to the public about decisions that are made in the Prosecutor's office?
DL: Well, there is prosecutorial discretion, which we want to protect. Prosecutors have discretion to take evidence that's brought to them and decide whether or not to lay charges and how to proceed with the criminal case as they move through the courts. We also want to protect the ability of the attorney general to be the safety valve. Because ultimately, I'm elected and my government is elected, and if the public doesn't like what we do for what we do in the public interest, they can decide not to re-elect us. There's an important safety valve there, too.