People
Profile
Heading the new Law Commission of Canada
Shauna Van Praagh hopes this time the Commission's revival will be sustainable.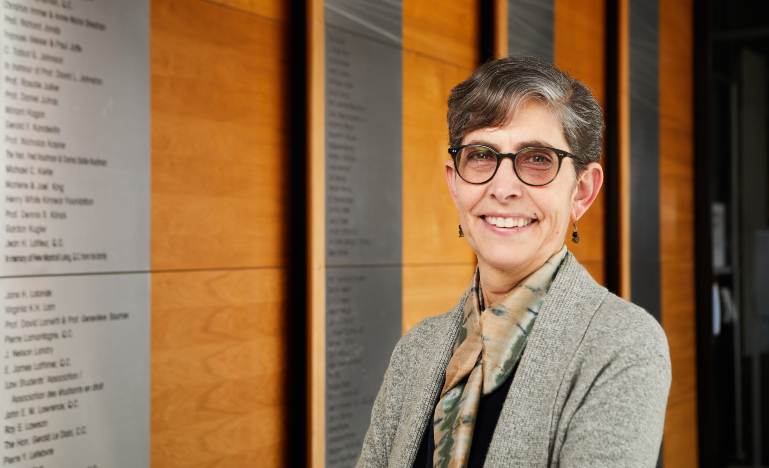 Shauna Van Praagh, a long-time law professor at McGill University, was ready for a new challenge. After nearly 30 years teaching generations of jurists and reflecting on legal education, she steps into her new role as president of the newly restored Law Commission of Canada in June.
Van Praagh was named to the position in February, along with two commissioners, Sarah Elgazzar and Aidan Edward Johnson. The minister of public safety, Marco Mendicino, led the process after Justice Minister David Lametti, a former colleague of Van Praagh's at McGill, recused himself.
"I've been curious about the Law Commission since 1997 when I watched one of my colleagues become the first president of the re-created commission," Van Praagh says. "I've used the Restoring Dignity report from that Commission in my own teaching every year since its publication."
The CBA was instrumental in the creation of the Law Reform Commission of Canada in 1971 to offer advice to the government on modernization of the law. It has been committed to its continued existence since then.
When the federal government announced it would revive an independent commission, Van Praagh was elated. Then the call went out for applications. "I was completely daunted by the idea of [re-establishing] the Law Commission," Van Praagh recalls. Still, she figured it was an endeavour "someone with three decades of experience in law teaching could take on."
At the time, Van Praagh had just published a book she had been working on for 17 years, and she felt she had something to offer.
During her tenure at the Commission, Van Praagh will be on leave from McGill, where she expects to return once her five-year mandate is over. As a professor, she identifies as a generalist who has taught first-year civil liabilities for much of her career, doctoral students and several specialized seminars.
"It's an important moment for Canada," Van Praagh says adding she hopes jurists across the country will pay attention to the Law Commission's work. "That will be part of our job—to make it relevant, significant, supportive and imaginative as we move forward."
According to the government, part of the Commission's mandate is "to address systemic racism in legislation and the legal system and support reconciliation with Indigenous peoples." Other priorities include access to justice, legal issues around climate change and rapid technological shifts.
"I'm not surprised that the minister of justice would identify those preoccupations and priorities and, potentially, projects for the Law Commission. But at this point, absolutely nothing has been discussed."
By law, he can make specific requests to the Commission. "I definitely hope that the relationship will be one of respect and collaboration, talking about priorities and agenda," Van Praagh says.
Van Praagh says she has yet to consult with the Justice Minister, which will only happen once she officially starts at the end of the academic year in June.
She says she takes the Commission's independence seriously. It's essential to have a vocation that won't duplicate what is done elsewhere, including in the Justice Department.
There is also the matter of firming up the Commission's advisory council. "We need 12 to 24 people—and two commissioners out of four have been selected."
It could take a little time for the Commission "to get up and running." But Van Praagh hopes to articulate the Commission's agenda and framework by the fall.
Looking ahead, Van Praagh also looks forward to engaging with provincial law commissions and law societies. She also plans to reach out to community centres and high schools. "Different communities are often engaged in thinking about how the structures, rules and regulations that intersect with their lives."
Van Praagh says the Law Commission also has a unique role in supporting harmonization where appropriate, and ongoing conversations across jurisdictions and legal traditions.
She's also mindful of how she leaves the Law Commission in five years. Its revival has to be "sustainable, not at risk of being defunded again," Van Praagh says. "We don't want to have to keep doing this every couple of decades."
The inevitable challenge with law reform initiatives is the political environment. What works tends to "get tied up too closely to governments of the day, which is risky because you wind up with a pendulum that goes back and forth," says Van Praagh. "And it gets difficult to get the buy-in from Canadians."
Thirty years as a law professor have taught Van Praagh the value of continually asking questions and listening. She also recalls a meeting with a student who'd arrived from Syria and whose dreams of law school would have been futile in their home country. They could make a difference in Canada and imagine a future as a jurist here.
"We often don't realize how difficult that is, and how precious that is to hold onto some of the things we often take for granted," Van Praagh says. "We don't stop to unpack and understand how crucial that notion is of the rule of law, the independence of the judiciary, and the shared pursuit of justice and the possibility of imagining a more just future going forward."
She says she'll miss the classroom and teaching students. "But I also have a feeling that there are so many people out there whom I haven't taught from whom I'm keen to learn, and this is an exciting time to do that."