People
Profile
A lifelong learner
Lynne Vicars, the CBA's new VP, has reinvented herself with renewed purpose.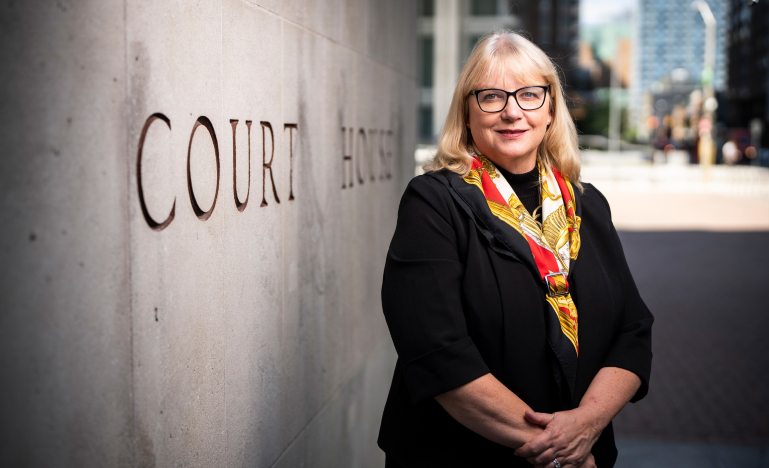 It's not that Lynne Vicars wasn't drawn to the idea of more leisure. It's that her inquisitive nature and strong commitment to making a difference had a much more powerful influence on her decision to postpone her early retirement.
Vicars has embraced the notion that there is always something new to learn in the practice of law and life — she has a Duolingo streak stretching over 900 days studying French to prove it. This commitment to learning has led her from a banking career to becoming a prominent lawyer, and now to her role as the CBA's new vice-president.
In 2020, Vicars was about to close the books on a fulfilling career of over 25 years with Scotiabank in senior operations and legal counsel roles. She had also just finished her term as only the ninth woman president of the Ontario Bar Association, where she had done much to promote equality in the legal profession.
Then the pandemic hit. Vicars began spending the majority of her time in New York State, where she is also a licensed practitioner, in addition to having been called in Alberta, British Columbia and her home province of Ontario. But it turned out that lying in hammocks and gardening would wait. She felt she still had much more to contribute to the profession.
Intent to return to full-time work, she dedicated herself to a new purpose. "That's what the pandemic allowed me to do," Vicars explains. "To take a pause and think what are the things I really care about most; what are the things I'm passionate about, and what is there left for me to do?"
This new perspective breathed life into what she now considers her third career. Today, everything she takes on serves her passion for promoting and upholding the rule of law.
Even with this new outlook, Vicars remains a master juggler of diverse roles.
Born in Kingston, Ont. and raised in Pickering, Vicars is general counsel for a metal manufacturing company in Buffalo, NY, a deputy judge in Small Claims Court in Toronto and a part-time member of the Licence Appeal Tribunal. With decades of experience in litigation, business, banking and e-commerce law, she is also an independent investigator with ADR Chambers Banking Ombuds Office, an External Complaints Body regulated by the Financial Consumer Agency of Canada, where she hears complaints about banks and provides reports and recommendations for resolution.
She has been a member of the CBA since 1997 and an engaged CBA leader since 2010. Lynne is currently a member of the National Board of Directors, the Finance Committee chair and the Law for the Future Fund board chair and trustee.
Vicars is passionate about mentorship, too, and serves as a firm mentor and assessor with the Toronto Metropolitan University's Law Practice Program. She has carried this skill across several fields, from being the designated computer science and technology expert in her early days at Scotiabank to helping new lawyers navigate the difficult journey to becoming a practitioner that she knows all too well.
If you ask her whether being a lawyer was always the plan, she'd say she didn't even consider it an option when she was younger. Neither did her mother.
"Her original dream for me was that I would become a legal secretary and marry a lawyer," Vicars explains about her late mother, who died when Lynne was 15. "But then, when I did very badly in typing in grade nine, I think she saw that wasn't my path – I wish she could have lived to see me become a lawyer and adjudicator."
When Vicars began her career as a banker with Scotiabank in 1981, she had briefly studied commerce. In less than ten years, she earned a certificate of Computer Studies and Computer Science from Centennial College and a bachelor's degree in Administrative and Commercial Studies from Western University. Her youngest child was born only a few months before she finished at Western, so she also graduated to become a mom of four.
Along the way, career counselors suggested she try law school. As a lifelong learner, she accepted the challenge and returned to school in Alberta.
Upon rejoining Scotiabank in 2001, she brought a fresh set of skills vital for a rapidly changing landscape of technology and banking, thanks to her Master's degrees in International Business and e-Commerce Law.
Anita Mackey, a fellow lawyer and colleague from the bank, notes that Vicars has a way with people that makes them look to her for leadership and a helping hand.
Amid the challenge of starting a new career in the early 2000s, Vicars mentored lawyers looking to start their own practice even outside of the bank. "She helped people with their resumes and interview styles – she's so good at that," Mackey says. "It was so remarkable, and I don't know how she found the time for it."
With brothers who raised her as the family's only sister and mentors who recognized her in rooms filled with men, Vicars has grasped the opportunity afforded her by choosing to give back to those coming up behind her.
As she heads into her year-long term as the CBA's vice-president for 2023-2024, she hopes to support current President John Stefaniuk, and to channel her past mentors by living through the learning.
"I think the most important thing that we can do for each other is to help each other get along in our lives," Vicars says. "That translates into law to help people have successful legal careers and fulfilling lives."