People
Profile
Young volunteers abroad
To mark National Volunteer Week in Canada, we highlight five initiatives, and the CBA volunteers behind them, to inspire legal professionals.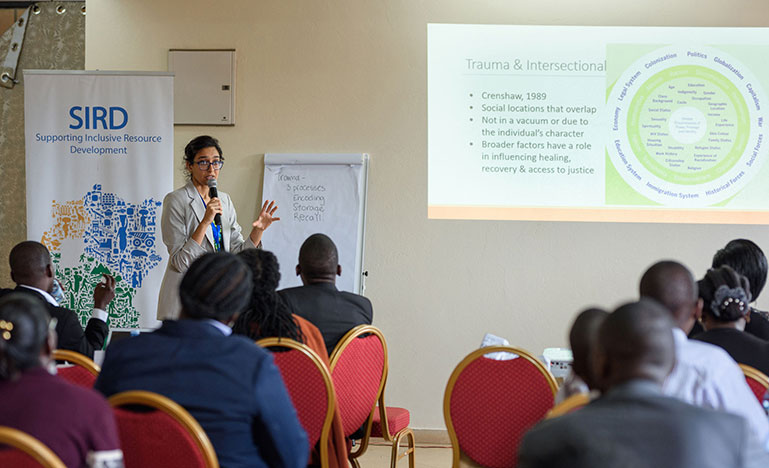 The CBA Young Lawyers International Program, or YLIP, places upcoming young lawyers and law graduates from Canada at internships with overseas organizations working in the areas of law reform, human rights, and access to justice. The program has been funded by Global Affairs Canada as part of the Government of Canada's Youth Employment Strategy, otherwise known as YES.
Since the program's launch in 2002, YLIP interns have participated in numerous justice-related efforts in countries across East and South Asia, Africa, and the Caribbean. For many, this is just the beginning of their pro-bono work in human rights and access to justice.
"The highlight of the experience for me was having the late George Bizos as my mentor," says program alum Joseph Chedrawe about his experience with the Legal Resources Centre in Johannesburg, South Africa. "Every day, I did my best to honour this exceptional experience of working one-on-one with a living legend, an experience that I continue to cherish as the greatest professional privilege of my life. It did not take long for me to understand why the entire country called him 'Uncle George.'"
Chedrawe now works pro bono with the CBA's International Initiatives Department, leading a training module on Human Rights Law/Principles for members of the Tunisian Bar Association. His YLIP work with one of the authors of the South African Constitution comes full circle to empower Tunisian lawyers to protect the rights and freedoms enshrined in that country's 2014 Constitution.
Other YLIP alumni – such as Evelyn Palach, Amilah Abd Al Rashid, Muhammad Zubair, Amelie Cournoyer, Laura Faryna, Amita Vulimiri, and Tina Parbhakar, among others – have gone on to volunteer under the CBA's Supporting Inclusive Resource Development in East Africa project, funded by Global Affairs Canada. In this capacity, they've supported training for women on regulatory frameworks and harms and benefits of the extractive industry, training for lawyers on extractive sector laws, advocacy actions of different women's groups, public legal education trainings, gender sensitive legal education and awareness programs, and mobile legal clinics.
And it all began with one international internship.