People
Profile
A man of many roles
John Stefaniuk, the Canadian Bar Association's new vice president, has done it all and is still on the lookout for a new challenge.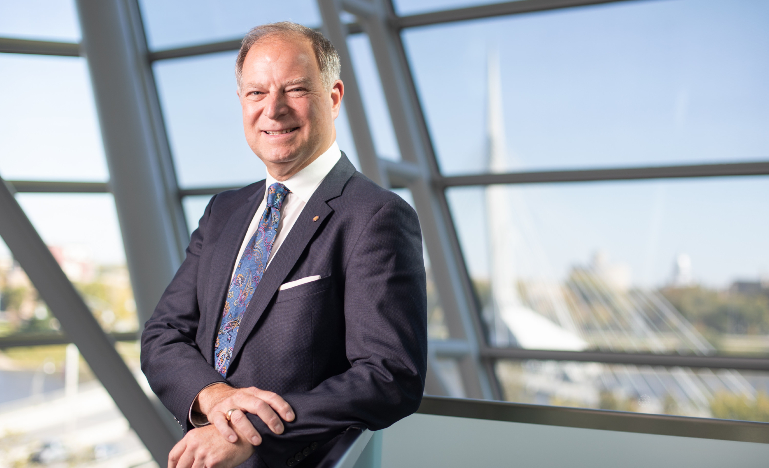 In addition to his diverse legal practice, volunteer work has played a big part in John Stefaniuk's life for many years, earning praise for the incoming Canadian Bar Association Vice President from friends and colleagues. "When things need to get done, he knows what to do to make things happen," says his former law school classmate and good friend Guy Joubert, who describes Stefaniuk as driven, focused, bright, and loyal. "He has this work ethic, and he just instills that in the folks around him."
Over the years, Stefaniuk has volunteered for many roles within the CBA and with a wide range of organizations. He served as President of the Manitoba Bar Association in 2005–2006.
Born, raised, and educated in Winnipeg, Stefaniuk is a first-generation Canadian of Ukrainian immigrants. Describing his upbringing as a "typical immigrant experience," his parents and grandparents strongly encouraged him to get a good education. Stefaniuk realized in high school that a law degree would be a good choice, though he first acquired a Bachelor of Commerce honours degree in finance as his Plan B. "No one made me an offer I couldn't refuse for employment after the business degree, so law school it was," he jokes. He's been with Winnipeg's Thompson Dorfman Sweatman since he was a 1987 summer student.
Stefaniuk's broad practice covers environmental law, real estate and development, natural resources and energy, commercial, and municipal law matters. His describes his practice as "eclectic." "It's generally business related, and often project related," he says, estimating that about 90% of his client contacts are from outside Manitoba.
Maria Grande, a partner at TDS, praises Stefaniuk's "wealth of knowledge" in his practice areas. He is "always looking to learn more and has an open mind. He is dependable and compassionate, and always makes time for his colleagues and friends."
Stefaniuk first got involved seriously with the Canadian Bar Association in 1994, when Joubert enlisted him to attend the annual meeting and conference in Toronto. Joubert, who served as CBA President in 2008-2009, watched in amazement at how effortless and natural Stefaniuk was at chatting people up and inviting them to Manitoba for the 1995 CBA convention. "He was just amazing. It was fun to see."
At that point in his career, Stefaniuk had begun working in the relatively new area of environmental law, so at the convention, he decided to attend a business meeting for the National Environmental Law Section (as it was then known). The group's chair told him the position of Chair for the Manitoba section was open, so he agreed to take it on. By getting involved in that way, he increased his visibility in the profession, but also "met a whole bunch of people, many of them are very good friends after 20-some odd years getting to know them at various conferences and events."
After some time with the Environmental Law Section, he moved up the ranks to become the Section Chair of the National Section. He later chaired the local organizing committee for the CBA National Annual Meeting and Continuing Legal Conference held in Winnipeg. He subsequently ran for a position on the branch executive and became Branch President. He was later nominated a member of the Supreme Court of Canada Liaison Committee.
For close to 10 years, Stefaniuk was Chair of the Criminal Code Review Board in Manitoba, which deals with accused who are not criminally responsible or unfit to stand trial. "Every accused under the jurisdiction of the board gets an annual review hearing and they also get an initial hearing when they first come to the jurisdiction of the board," he says. "So, it's completely different from my day job, but certainly it brought a perspective to mental health issues in Canada and the interplay with the criminal justice system and also in the area of independence of tribunals."
Stefaniuk also spent six years on the board of the Canadian Bar Insurance Association and became involved with the fundraising board for the Canadian Museum for Human Rights for almost 10 years, including six years as chair. He helped to raise roughly $160 million towards the capital costs of the museum's construction. After, he worked on the CBA's Judicial Issues committee, then put his name forward for the National Board of Directors.
Among the highlights of Stefaniuk's career has been volunteering for the Supporting Inclusive Resource Development project in East Africa, a program operated by the CBA and funded through Global Affairs Canada, in partnership with the law societies of Uganda, Kenya, and Tanzania.
"The project is supporting inclusive resource development," says Stefaniuk, which is in various stages of maturity in the three countries. He has travelled to the area three times as a Canadian technical advisor, participating in conferences and presenting a Canadian perspective of best development practices from around the world, legislation and policy.
Stefaniuk has two sons in their twenties. He enjoys photography as a hobby and loves to travel, often heading to the Metropolitan Opera in New York. He likes live theatre and concerts, enjoying a "broad range of music—everything from Tony Bennett to Alice Cooper and everything in between."
As CBA VP this year, Stefaniuk says he will support President Steeves Bujold and help carry out his agenda, while "learning the ropes in anticipation of taking on the president's position just over a year from now."