People
Profile
Pushing against glass ceilings
Folami Jones on the ongoing quest for equitable justice.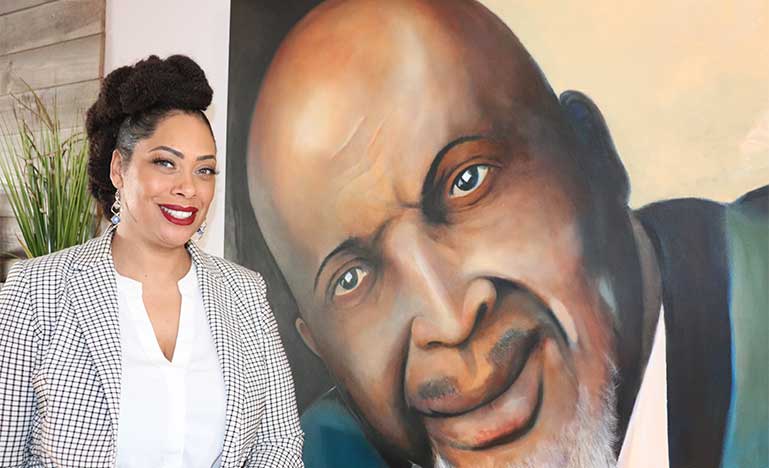 My father, Dr. Burnley "Rocky" Jones was born on August 26th, 1941 in Truro, Nova Scotia. He was brought up in a highly matriarchal family, with my grandmother Willena Jones running the house of seven girls and three boys. This is not to undermine the role my grandfather Elmer Jones played—he was the quiet and constant man who never missed a day at work, serving in the military during WWII, and later in the post office. Truro was very segregated—he'd often speak about the different "rules" for blacks than whites, and the importance of education as a cornerstone to our freedom.
Be it a Sunday afternoon or Tuesday evening, I used to find my father sprawled out on the couch reading for hours—the writings of Thomas Sankara, Frantz Fanon, Kwame Ture, and Kwame Nkrumah. He read poems like The Cremation of Sam McGee by Robert Service, or fishing guides of Newfoundland and Labrador. His library was an homage to the civil rights movement and encapsulated memorabilia of a rural black man's life in Nova Scotia. Black Panther power badges, international delegate letters, fishing reels and a moose call whistle were common sights found in his office. And, of course, a sweet bottle of Havana Club for his Friday night buddies and an old pack of cards for a friendly game of poker. He was a man that walked many roads, made many friends and always remembered his home. He was proud to be Nova Scotian, a black man born and raised on the "marsh" in Truro.
He hit many glass ceilings but was relentless in pushing through numerous structures of racism. Invariably, he'd find a soft spot through constant agitation. He was busy, always involved with some kind of initiative—a think tank, social movement or community mediation. There wasn't a time he wasn't working for the people. A day out with my father might mean you'd end up in a protest, or at someone's kitchen table listening to hours of debate and loud talking. Or maybe you might find yourself at a shoreline gearing up your fishing lines and dragging a boat out to catch mackerel. No matter how the day went, it would be filled with lessons that I'd come to understand more as a woman later on in life, which have deeply contributed to the person I am today.
My father always told me that if you see something wrong and you don't stand up for what is right, then you are a part of the problem. Perhaps that's why I ended up studying in a Juris Doctor degree of law, after pursuing nursing, midwifery, and a masters in lifelong learning (all but thesis). I think being a trailblazer requires a resilience that is rooted in a thirst for change and a desire to expect better.
My father saw the disparities in his community: the over-representation of African Nova Scotians in the judicial system and little to no representation of Black legal counsel. So, what did he do? He started an initiative to support Indigenous Black and Mi'kmaq students attending Dalhousie Law School 30 years ago, which has graduated more than 200 students from those communities. I am also a proud student of this initiative, and although the barriers of racism are still great, initiatives like this are the mechanisms that make the burden lighter.
When people say to me, "oh you're going to be just like your father", I bow in humility. Dr. Burnley "Rocky" Jones was a hero, and a man of courage that never whimpered in the eyes of injustice. It's an honour to be his daughter. But I am a woman. A woman rooted in my own reality, where the revolution advances in my distinction as her.
I am an African Nova Scotian woman whose hair is curly and wide taking up space in boardrooms, courts, and parliament houses. Sometimes my skirt passes the man beside me, leaving diverse fragrance of success and, I dare to say, my brown skin brings hues of radiant transformation. The desire for equity is palpable in the legal profession, as the times for sustainable employment and equal opportunities becomes paramount to a changing culture.
Many firms that historically have been predominantly white and male are grappling with how to support implementing diversity and inclusion within their organizational structure. A few firms have begun to adopt these improvements, and I'm proud to say McInnes Cooper has taken up the task and welcomed me into their establishment as a student and articling clerk.
The implementation of equity and inclusion requires an element of scrutiny, and a critical evaluation of effectiveness. It brings me hope to see those same ceilings my father pushed against shatter, with diverse women leading the Canadian Bar Association, such as Vivene Salmon, a first in 123 years.
What does this mean for the future of Canadian law? I'd say a myriad of differences, hemmed by a unified demand for equitable justice, and a profession that directly reflects a larger source of experience and knowledge.
My moose whistles and Black Panther badges sit deep in my purse—full of yesterday's tools to build tomorrow's bench.