Law
Opinion
The legal profession's duty to respond to climate change
Broad impacts across practice areas, threats to human rights, and a rapidly changing legal landscape all require our active engagement.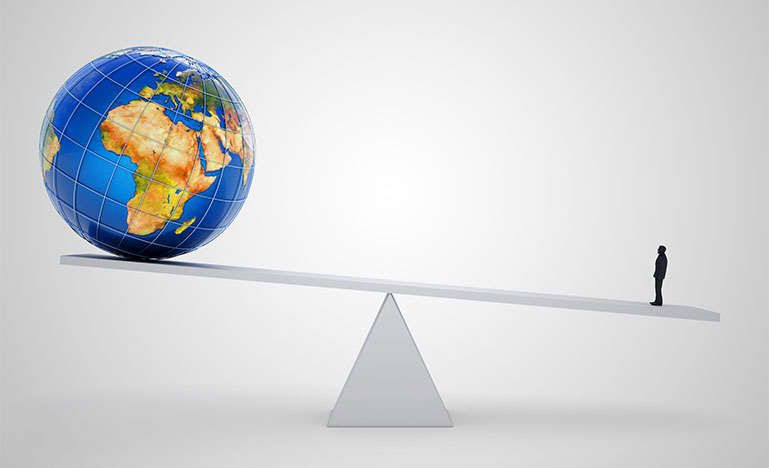 "Dealing with climate change is among the most important challenges that will face Canada and the world in the 21st century. The impact of climate change will be especially felt by already vulnerable people, exacerbating the social and legal difficulties they face. It is imperative that lawyers and justice actors who desire a just society engage pro-actively in curbing climate change and mediating its impacts."

The Right Honourable Beverley McLachlin, former Chief Justice of Canada
One of the many harsh lessons we've learned from the COVID-19 pandemic is that the harms caused by the virus, and our response to it, are not borne equally. The COVID-19 pandemic has amplified existing inequalities, and human rights advocates have called on government to ensure that the rights of the most vulnerable are protected.
A similar vicious cycle is at play with climate change, where "disadvantaged groups suffer disproportionately from [its] adverse effects, resulting in greater subsequent inequality," as described in a working paper by the UN's Department of Economic and Social Affairs. These adverse effects include both the direct physical hazards of climate change and the impact of policies to reduce emissions and adapt to a changing climate. For example, climate change adaptation spending is often driven more by wealth than by need. Also, disadvantaged groups benefit relatively less from new climate-friendly technologies, as found by the UN Research Institute for Social Development.
There is a significant risk that climate change, and our response to it, will amplify existing inequalities based on gender, race, ethnicity, religion and age as well as economic inequalities, both within and between countries.
Addressing inequality and advancing human rights and justice
In a submission to COP21 last year, the UN High Commissioner for Human Rights articulated why climate action must be consistent with human rights obligations and principles. "Those who have contributed the least to climate change unjustly and disproportionately suffer its harms. They must be meaningful participants in and primary beneficiaries of climate action, and they must have access to effective remedies."
Lawyers belong to a profession with a deep and long-standing commitment to human rights and the rule of law. When called to the Bar, lawyers in Ontario swear to "champion the rule of law and safeguard the rights and freedoms of all persons." The CBA's Legislation and Law Reform Committee's mandate is to pursue "improvements in the law and the legal system that reflect the CBA's commitment to the Rule of Law, the Charter of Rights and Freedoms, and fundamental human rights."
To fulfill these commitments, we must: first, broaden and deepen our engagement in responding to the human rights impacts of climate change, as we have on other human rights concerns; and, second, consider the rule of law as a "guiding frame" for responses to the climate emergency, as suggested by Jocelyn Stacey, to ensure that decisions are fair, reasonable, and transparent.
Knowing the risks and opportunities
A wide-ranging review of the impacts of climate change (including mitigation and adaptation) is also necessary to fulfill our professional obligations to our clients. They face significant risks and opportunities related to climate change and the transition to net-zero emissions. Research is ongoing to anticipate what these changes will mean, and major Canadian institutions have already released significant findings. For example:
In November 2020, the Minister of Environment and Climate tabled the Canadian Net-Zero Emissions Accountability Act in the House of Commons. Among other things, it would bind the government to a process to achieve net-zero emissions by 2050. Meeting this obligation will require rapid and far-reaching transitions in energy, land, buildings, transportation, and industrial systems at an unprecedented scale.
Lawyers can be climate leaders
Significant structural changes are coming and lawyers will play a critical role. However, as a profession, we have not yet grappled with the implications of climate action across all practice areas and how our engagement aligns with our commitments to human rights and the rule of law.
Our national and provincial governments have begun to integrate climate change into the mandate letters for ministries that traditionally do not involve "environmental" issues.
The proposed Climate Leadership Resolution, to be considered at the CBA AGM on February 17, 2021, requests that CBA Sections and Committees do the same by considering climate justice and the impacts of climate change in their submissions regarding potential law reform and in developing educational programming. The resolution also adopts a definition of climate justice and urges lawyers to undertake individual actions, where applicable to their practice and in keeping with their available resources and geographic location.
More information about the Climate Leadership Resolution is available at lawyersforclimatejustice.ca. Resources on the website include statements from lawyers practicing across Canada regarding the importance of climate justice, including former Chief Justice of Canada Beverley McLachlin who provided the statement at the beginning of this article. The resolution also has the support of the Aboriginal Law Section, Labour and Employment Law Section, Municipal Law Section, Not for Profit and Charities Law Section, and Women Lawyers Forum.
The CBA has urged governments to take action on climate change, but has not yet taken a position on its own role in climate action. It is well past time that we join other professional associations, such as the Canadian Medical Association, Ontario Society of Professional Engineers, Planning Institute of British Columbia, British Columbia Society of Landscape Architects, and others, in recognizing our part in finding solutions to the climate crisis that reduce inequality and advance justice.