Law
In-depth
The difficult road to a green recovery
Not easy in a world that is both reeling from a pandemic and divided over how to respond to global warming.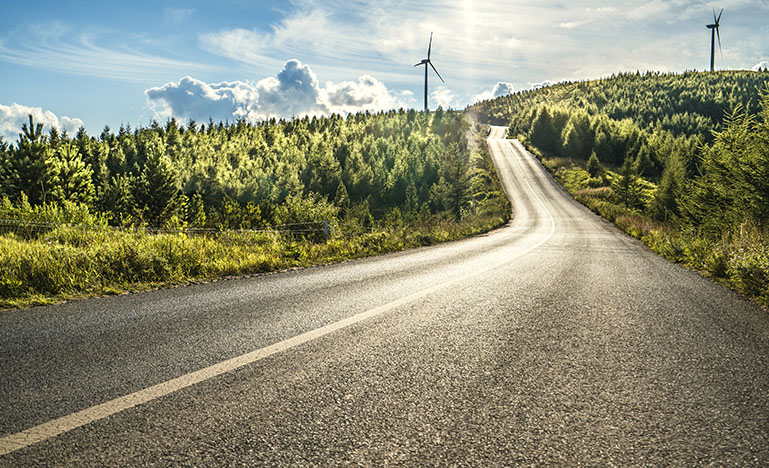 In Canada, recent talk of an ambitious green recovery plan has largely been pushed to the back-burner. The rising number of COVID-19 cases across the country has forced the federal government to refocus its attention on the public health crisis and more immediate economic needs.
Not that last month's throne speech didn't contain some measures dedicated to the environment. It included a pledge to create thousands of jobs in energy efficiency building retrofits, spending on zero-emission vehicles, a new fund to spur investments and jobs in green technology. There are also plans to cut the corporate tax rate in half for green manufacturing companies.
Meanwhile, a ruling by the Supreme Court of Canada on the constitutionality of the federal carbon pricing scheme could take several months. It held hearings in three provincial references from Saskatchewan, Ontario and Alberta last month.
Even if the top court does rule in favour of the federal government, Parliamentary Budget Officer (PBO) Yves Giroux recently served a reminder that Canada will not reach its greenhouse gas emission reduction target under the Paris Agreement without raising the carbon tax significantly over the next decade.
"The reality is we're not going to be able to continue our lifestyle without addressing climate change in a truly comprehensive manner," Risa Schwartz, an international trade and environmental lawyer, who was glad to hear talk of green jobs, but says the throne speech fell short. "I just didn't see that. It really should have been interwoven into each undertaking."
There may be more to come in the economic update and budget. But Schwartz wants to see Canada come up with something closer to the European Green Deal or Joe Biden's take on the Green New Deal in the United States.
"I'd like to see a comprehensive plan on how we're going to move forward on climate change and not just goals and looking for carbon neutrality by 2050. It's already evident that's too late. I want to hear what we're doing over the next 10 years and how we are radically reducing emissions."
Maria Panezi, an assistant law professor at the University of New Brunswick whose research focuses on the interaction between national strategies on climate change and World Trade Organization law, says Canada's approach has to be more intrusive into the market. It needs to go beyond a carbon price to include a fossil fuel phase-out and a transition for those working in that industry. It has to steer consumers toward less carbon-intensive goods and a robust recycling program that phases-out other goods. It also needs to involve Indigenous populations that will be the first to suffer from climate change because of their location.
Meanwhile, Canada could soon find itself at an environmental crossroads. Carbon border adjustments — higher tariffs on goods from countries that don't meet specific environmental standards — are gaining momentum. The European Union, with its goal of cutting greenhouse gas emissions of countries by 50% over the next decade, is considering imposing them on imports that are carbon-intensive in their production.
South of the border, the November election could bring in a new administration keen to implement an ambitious climate plan. Or, if Donald Trump is re-elected, the U.S. is likely not to move forward on climate change at all. Each scenario puts Canada in a difficult position.
"[Green tariffs] are going to mean pressure," says former Quebec premier Jean Charest, who served as federal environment minister in Brian Mulroney's Progressive Conservative government and is now a partner at McCarthy Tétrault in Montreal.
"We're among five top countries in the world whose GDPs are most dependent on trade. If we enter that zone, that's a big risk for Canada. A lot of what we export are resources, whether it's agri-food, lumber, energy. We have every interest in keeping our eye on the ball. And being very vigilant to these kinds of measures."
Panezi says Canada could have been more proactive by implementing a nation-wide carbon pricing system and by adopting a carbon border adjustment of its own. There is still time to coordinate with Europe on border tariffs, she says. That way, companies would pay for carbon at home, keeping the money in Canadian pockets to help provinces and territories transition to a greener economy instead of paying for Europe's transition.
"Why not be smart about it and get ahead of the game," Panezi says. "Imposing a carbon border adjustment (here) will signal to other major markets that this is happening on a non-unilateral basis. Then you'll start to see a new round of negotiations at some level... with other economies called on to do the same."
While some argue Canada has no choice but to follow or join the E.U., Charest says that would be self-defeating. Chris Cochlin, a partner at Cassidy Levy Kent, adds that it would amount to acquiescing to the E.U.'s unilateral imposition of tariffs. They might be more meritorious than U.S. tariffs on Canadian steel and aluminum, but conceptually they are really no different.
"The E.U. going it alone and saying, 'to hell with everyone else, here's what we're going to do' —not a lot of countries will like that. What Canada would certainly want is a rules-based, multilateral framework where everyone comes to the table and agrees on a regime for this."
Canada also has to be realistic that its largest trading partner isn't Europe, but the U.S., which accounts for nearly 80% of exports and a third of our GDP.
"You've got to deal with customer number one," says Mark Warner, a Canadian and American trade lawyer. "There will be pressure on us to do stuff with Europe, but whatever we do, it will have to be done in a way that preserves our ability to work through whatever we'll have to work through with the United States."
Warner is skeptical that an E.U. border tax is coming anytime soon. But if Biden is elected, there will likely be pressure on his administration to go down that road, he says. There might also be an opportunity for Canada to sit down and discuss what carbon border adjustments might look like. But he cautions that the Democrats could control Congress. "I think we'll find we don't have as many friends in Congress as Canadians like to think we have," he says. "When it comes to trade matters, Democrats tend to be more protectionist."
As appealing as they may be, carbon border adjustments are technically difficult to administer. Charest prefers a simpler approach, such as a well-designed carbon tax that's uniformly applied. He points to the Paris Accord, which had no carbon tax in the equation when efforts began, but did by the end. Charest, one of the architects of Quebec's cap-and-trade system with California, adds that fiscal conservatives should support the use of economic instruments to address environmental issues. After all, it's a conservative idea, he says.
He points to the Montreal Protocol, which remains the most successful environmental treaty in the world. Led by Canada under Mulroney's government, it was the first to differentiate between developed and developing countries, and outline different implementation schedules.
"The Reagan Administration supported it because it was the use of economic instruments," Charest says. "We need to return to this level of dialogue to allow us to have good, sane, real discussion as opposed to sloganeering, which frankly ends up being very disappointing."
The next year will tell if carbon border adjustments have legs. For now, with governments focused on the second wave of COVID-19, any other new spending may look tone-deaf to taxpayers.
Beyond that, Charest says there's a different approach emerging in Canada that's potentially more productive, beginning with more research and development to reduce the carbon footprint of the oil sands.
"In fairness to the industry, a lot of work has been done," he says. "Believe me, they get it."
Carbon capture and storage technology also holds some promise, he says. And in February, the federal government announced plans to launch a small nuclear reactor plan to help provide energy to heavy industries located in remote communities.
"Hydrogen is also interesting and it looks like the federal government is going to put together a major program on this," Charest says. Alberta's recently announced natural gas strategy has also identified hydrogen as an emerging opportunity.
As for the federal carbon pricing scheme, Charest calls it a "horse that's out of the barn." But it needs a reset to get all the provinces on board. Properly designed, that could help reduce consumption and divert to lower-carbon sources, he says.
While the push for change is coming from all sides, the government is not in the driver's seat. What's more, environmental provisions contained in trade agreements such as CETA and CUSMA have limited impact. At the moment, the market has the wheel, says Janet Bobechko, a senior partner and certified specialist in environmental law at Norton Rose Fulbright.
"Will there be a legislative framework? Likely at some point. We're seeing little pieces of things. Really, the biggest driver is capital and investment."
Increasingly informing decisions around investments are environmental, social and governance factors that evaluate companies on how far advanced they are on sustainability. Investors and customers are pressing for more accountability, reporting and transparency around the impact of business activities.
People first started talking about these issues a decade ago, but Bobechko says discussions about business sustainability have really picked up over the last few months.
In January, Laurence Fink, the founder and chief executive of BlackRock, one of the world's largest investment management companies, announced he was putting environmental sustainability at the core of its investment decisions. The same month, the World Economic Forum released its 2020 Global Risk Report, which identified climate change as the most likely factor to have a global economic impact. In September, the WEF released a set of universal ESG metrics and disclosures to measure stakeholder capitalism.
In August, Mark Carney, the former governor of the Bank of Canada and the Bank of England, and now the U.N. Special Envoy for Climate Action and Finance, announced he was joining global investment firm Brookfield Asset Management to lead its expansion into ESG investing.
"This is the driver for change," Bobechko says of ESG. "The one thing we regularly talk to clients about is that it will be a journey, but you have to start. You have to have a champion... and it has to become part of what the company wants to do."
To remain competitive, the days of doing nothing are over. Pension funds and major banks have all signed on. And should the E.U., the U.S. or both move forward with carbon border adjustments, companies here that haven't worked on this, particularly those in carbon-heavy industries, will be at a real disadvantage.
In the meantime, governments must continue to reach for low-hanging fruit that can have an immediate environmental impact, while accelerating the overall energy climate initiative, says Charest.
"That means tying the knots together, connecting all these things so we have a cohesive, coherent approach to energy and climate which we don't have now. If you put together those pieces, you have something that leads to pretty concrete outcomes and a reduction in greenhouse gas emissions."