CBA Influence
Policy
Thinking beyond the courts
Resolving legal disputes has to focus on the needs of the users of our justice system, and helping them access better outcomes.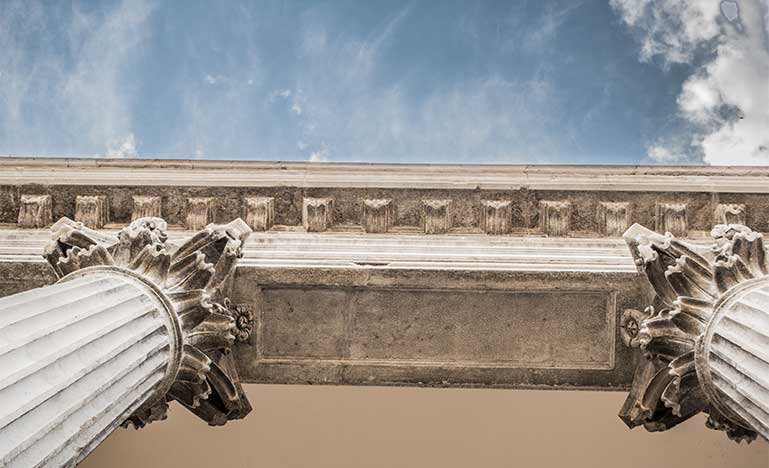 Courts will always be necessary and have a rightful place at the centre of our system of justice, but if the fallout from COVID-19 has taught us anything, it's that we need to find a way to need courts less.
That is essentially the work of various stakeholder groups studying the impact the pandemic had on Canada's justice system and legal profession, and envisioning a new way of working in the future. Those groups include the CBA's COVID-19 task force and the National Action Committee on Access to Justice in Civil and Family Matters.
And that message is not a new one, says Patricia Hebert, Q.C., a family law practitioner with Bruyer & Mackay in Edmonton. Hebert is now the CBA representative on the National Action Committee, which published its Roadmap for Change in 2013. She was a member of the CBA's Access to Justice committee when it published its Reaching Equal Justice report the same year.
"Those reports are still super-relevant," Hebert said in an interview. And the main point of both reports is that the clients – the users – need to be at the centre of the system. It has to work for them and their needs.
"Users want resolution. Access to justice is not access to courts. If reaching resolution is something that can be done in a community-based process, can be done effectively and quickly, that's what we need to do.
"As people wait for court outcomes, their problems often compound. If we can find ways to get people to resolution earlier we know that has ripple effects in the communities. It saves untold dollars and also untold grief."
Hebert, a registered mediator whose practice focuses on dispute resolution, is a big believer in the power of collaboration to achieve best outcomes. In a presentation to the CBA's Task Force on Justice Issues Arising from COVID-19, she said she hopes that it and the National Action Committee can work together to look at the best ways to pivot toward the new reality.
The National Action Committee has started creating an inventory of innovations or changes that have been made at various levels across the country to create a national picture of what's working. That's an area where the groups can share information to perhaps create a guide to best practices, she says. There will also be many other opportunities for "cross-pollination."
"Courts have to operate and rebound effectively. But making sure people have a place to go that is not a courthouse is even more important when courthouse doors are closed," she told Task Force members.
Technology has provided a necessary interim solution to those closed doors, for example, reducing or eliminating the need for personal attendance and paper documents, which saves time and money, not to mention forests worth of trees, and also by providing a platform for remote hearings. But that can't be the only answer if the needs of all those who use the courts are fully considered.
"We now have some online access to courts and that's great, but for really marginalized people, knowing how to access these virtual sittings and even getting access to a computer is challenging. Many marginalized people go to libraries to use computers, but libraries have been closed during COVID, so what do they do? We can't leave behind that portion of the population."
The justice system – and the legal profession – need to work on creating community-based opportunities for resolution, where legal advice and legal intervention are available when needed, but an appropriate resolution is user-defined. That means if lawyers can get out of the way, they should. Whatever solutions all these groups currently studying the problem come up with, it has to be focused on the needs of the clients.
"Lawyers can have no skin in that game. If we need to get different jobs because we have solved the problems, I'm OK with that. I'll go into real estate."
Looking at the past few months and the way the justice system and legal professions have already adapted to the social distancing measures put in place to respond to the pandemic, Hebert says she's "loved the idea that we can look at something and say, 'Do we really need to get together and use our resources in this way?'"
She points out that before the pandemic, no one in our understaffed and underfunded courts had extra capacity to figure out more efficient ways of doing things, or the ability to implement them. The pandemic forced the courts to rethink their processes – and gave them the time to do so.
"There are some things we don't need to go back and do the same way. We're not going back to the old processes except where we choose to do so because it truly provides for better access or outcomes."
{^widget|(mobileimage)%7e%2fMediaGallery%2fNM%2fNationalMagazine%2fArticles%2fInfluence%2fInsight%2fPatriciaHebert-150x200.jpg%3fext%3d.jpg|(alttext)Patricia+Hebert%2c+Bruyer+%26+Mackay|(name)NM.Widget.InlineImage|(description)Patricia+Hebert%2c+Bruyer+%26+Mackay|(desktopimage)%7e%2fMediaGallery%2fNM%2fNationalMagazine%2fArticles%2fInfluence%2fInsight%2fPatriciaHebert.jpeg%3fext%3d.jpeg|(widget_displayname)_NM+Inline+Image|(width)|(height)^}