The practice
Small and solo
Survival mode
Advice for small firms and solo practitioners during COVID-19 pandemic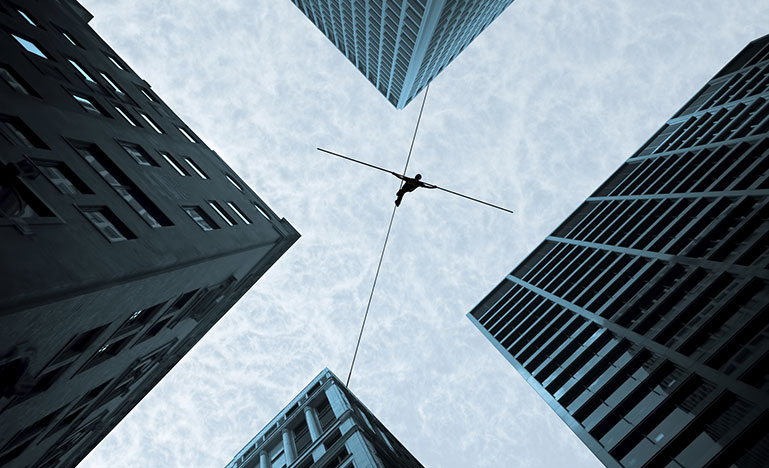 Small law firms and solo practitioners are feeling the crunch of court closings and uncertain revenue collection as the economic downturn caused by the COVID-19 pandemic deepens.
Mark A. Cohen, the CEO of Legal Mosaic, a legal business consulting company, says that there are not any quick fixes to the financial crisis caused by the COVID-19 pandemic.
"Solo practitioners and people working in small firms need to focus on two things," he says. "The first is survival and the second is whether they can get paid for their work -- both with prospective clients and accounts receivable as many of their clients go bankrupt."
Caryma Sa'd, a Toronto-based sole practitioner who specializes in landlord and tenant disputes and criminal law, says that the closure of the Landlord and Tenant Board and the postponement of hearings has significantly affected her ability to work.
"The main concern for lawyers is that our bills aren't going to stop anytime soon. Many of us carry at least some level of overheard, and meanwhile, our client funds have dried up as matters have been paused or adjourned," she says.
"Every dollar counts at this point," she adds. Sa'd created a petition that garnered more than 3,000 signatures, requesting that licensing fees due to the Law Society of Ontario be suspended. The Law Society responded by extending the deadline for fee payments.
"I'm glad our concerns were taken into consideration," says Sa'd. "But bigger problems remain."
"It's unprecedented, so we are all figuring it out at the same time."
Advice for small firms during the pandemic include:
1. Stay safe
S'ad shut down her office in mid-March, calling it the "responsible thing to do."
"I've stopped client meetings," she says. "Now we are doing phone or video conferencing, and that is to ensure everybody's safety."
Restricting face-to-face meetings can also help law firms to ensure that they are meeting their safe workplace obligations and protecting their staff.
"Use this as an opportunity to communicate with people on a remote basis," advises Cohen.
Aside from keeping yourself and your clients safe, it can also save time for everyone, he adds.
S'ad also recommends that lawyers take care of their mental health.
"There is a lot of bad news that we are receiving. That can take its toll," she says.
2. Reduce your overhead
Cohen recommends that lawyers take this time to consider their overhead and structure their businesses to operate at a lower cost.
"Think to yourself: Do I really need to have a full-time office, or can I work at home on an as-needed basis or use a shared office space?" he says.
3. Prepare to apply for the Canada Emergency Wage Subsidy
To qualify for a 75 per cent subsidy of employee wages (subject to an annual maximum of $58,700), employers must demonstrate a decline in gross revenues of at least 15 per cent in March and 30 per cent in April and May – compared to the same months in 2019.
Although small law firms are clearly eligible, they need to understand that the accounting requirements could be challenging for all small businesses, says Bruce Ball, Vice-President, Taxation at the Chartered Professional Accountants of Canada. "They've been so busy just trying to deal with their clients and their business issues, and my big concern is doing accounting is probably not one of the big priorities right now," he says.
He noted that many small or even medium-sized businesses without formal month-end accounting might struggle to determine revenue was generated in 2019 to make the 2020 comparisons. "They didn't know last year that they may have had to have accurate monthly data."
Firms also need to make careful decisions about billing, as there are still questions surrounding write-offs and unbilled fees. "Some of these firms will actually bill, and then they won't get (the subsidy). And then they'll be treated harshly compared with a company that doesn't try to bill in the first place because they know the client is unable to pay," says Ball.
Since it could take six to eight weeks to receive the Canada Emergency Wage Subsidy, Ball encourages small firms to apply for a 10 per cent wage subsidy program to get modest relief immediately.
4. Reach out to your clients
COVID-19 is causing "a lot of uncertainty" for clients, says S'ad. "I am dealing with a lot of concerned calls and questions that I do not necessarily have the answers to yet.".
Cohen says that many clients will be affected personally and economically by the pandemic.
"Because those clients are stressed out, now would be a very good time to reach out to them and ask them how they are doing and if there is anything you can do to help them," he says.
"Clients will remember that for a long time to come," he says. "When things hopefully get better for them, they will remember that lawyer who did that."
5. Consider learning new practice areas
After the pandemic ends, Cohen expects increased demand in some areas of legal practice.
"Litigation is certainly expected to have an uptick. Employment law will be another area of significant growth," he says. "If you are not familiar with those areas of practice, maybe take the time to take some online courses."
Other areas that may experience a boom are family law, debt collection, foreclosures, evictions, and wills and estates.
6. Spend time on social media
Since in-person networking opportunities are now non-existent, Cohen says that lawyers could consider using social media more.
"Is there something that you can contribute to the public or to the discourse that people might be interested in?" he asks. "Social media is a very powerful tool if you use it judicially and effectively."
7. Use the time to focus on the future of your practice
"If you have a little more time on your hands, you might take a long hard look at your practice," says Cohen.
He recommends asking yourself the following questions: "What is my practice now? What are the things that I am doing that I really like doing and I'm really good at doing? What is it that I don't like doing or I don't particularly want to do -- either because it doesn't interest me or because of financial considerations? How can I reposition myself?"
Sa'd agrees that lawyers should focus on the future.
"When it's all said and done, we will have a bunch of new legal issues to deal with," she says. "There is light at the end of the tunnel. It is just a matter of making it until then."