People
Profile
Shining a light on miscarriages of justice
Amanda Carling wants Canadians to understand wrongful convictions through the lens of history.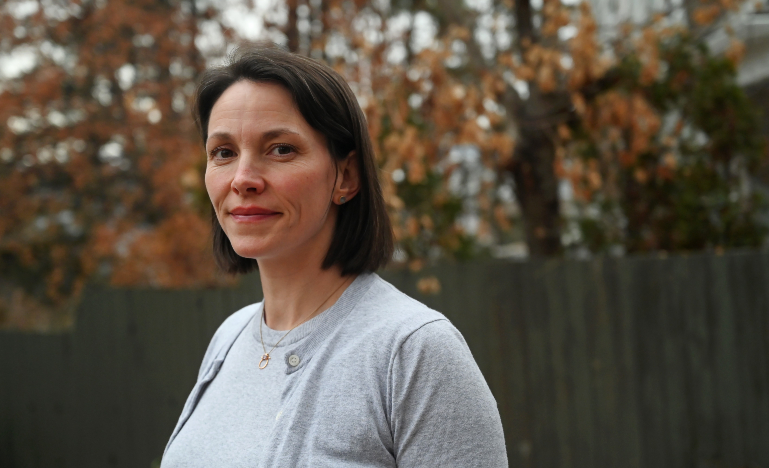 As a second-year law student at the University of Toronto in 2010, Amanda Carling took a class on wrongful convictions. One day, as she sat listening to the lecture given by law professor Kent Roach, she couldn't help but point out that something was missing. "I was critical of the lack of coverage in his course of the cases of Indigenous and racialized people—of people experiencing poverty," Carling recalls. She would later build on the observation, lamenting in a paper the scarcity of then-existing literature on miscarriages of justice in Canada.
"[She] was one of the students that pushed you as a teacher, and those are the best kind of students," Roach says about Carling.
Fast forward to today, and wrongful convictions are in the headlines. In February, Justice Minister David Lametti introduced Bill C-40 to create a commission to review miscarriages of justice in Canada, a measure supported by the CBA. That same month, a group of law students launched the first-ever Canadian Registry of Wrongful Convictions, under the guidance of its co-founders, Carling, Roach, Jessie Stirling and Joel Voss.
When Carling decided to gather data with her team, one of her goals was to shine a light on the cases no one knew about. What's more, the group hoped the registry would offer an understanding of who is represented in known cases of wrongful convictions. It currently documents 83 wrongful convictions in Canada that have been overturned. Of those, at least 19% involve members of Indigenous communities – a figure that is likely higher since nearly 40% are classified under unknown race or ethnicity. Indigenous people account for more than 32% of all incarcerated inmates
Taken together, these figures give a clearer, albeit imperfect, picture of the gap between the people who are overrepresented within incarceration but underrepresented when it comes to receiving remedies when wrongfully convicted.
As a Métis who grew up in Winnipeg, Carling learned early on to identify populations that were – and remain – particularly vulnerable to the justice system. She realized that diverse perspectives on wrongful convictions were as limited as the available literature on the issue. That sense of injustice stayed with her as she was called to the bar in 2013 and throughout her legal career.
After articling with the Association in Defence of the Wrongly Convicted – known as Innocence Canada today – Carling joined the University of Toronto's faculty of law as Manager of Indigenous Initiatives. That's when she decided to reconnect with her former professor.
Remembering the impact Carling had on his teachings, Roach invited her to share duties in giving the course on wrongful convictions. Having taught it alone for 15 years, he was thrilled to cede control to someone who brought a perspective he never could. The two joined forces and reworked the class, giving it a renewed focus and a new mission. Looking to provide students with examples of wrongful convictions of members of the BIPOC community, they realized there were few resources to help them.
Then in 2018, they both attended an Innocence Network conference in Memphis. They spoke with the researchers of the National Registry of Exonerations in the United States and got inspired. It would be up to them to create something similar in Canada.
As much as the American registry served as a model for their work, Carling and Roach were purposeful about making Canada's data go a little deeper. According to Carling, the American registry includes about a dozen data points for each case. The Canadian registry includes 140 per case.
"We want to look for trends … we want to be thoughtful about the experience of racialized people, we want to look for trends with LGBTQ2+ folks," Carling explains.
As Carling and Roach recruited a research team and student volunteers to scour decades of data, they grappled with how they would define a wrongful conviction. To capture a broad range of perspectives from people who suffered miscarriages of justice meant broadening its scope beyond what the public might assume it means— serving a sentence for a crime someone didn't commit or something out of a true crime show on Netflix.
It's a perspective that centres strictly on the justice system's only failure as accusing and convicting the wrong person —where racialized people are suspected because they happen to have some relation to a victim or a criminal event. "The criminal justice system fails to check those suspicions and it results in a conviction or a guilty plea," Roach explains. But it says nothing about the existence of the offence itself. What happens if there is no crime at all? This is what Carling calls an imagined crime.
It's why the team decided the registry ought to take a broad approach by defining a wrongful conviction as "a criminal conviction that is overturned based on new matters of significance related to guilt not considered when the accused was convicted or pled guilty."
One-third of the cases brought to light by the registry were proven to be imagined crimes – false or completely fabricated events.
According to Carling, this points to a more fundamental issue of the incarceration system in Canada. Although efforts directed at sentencing and bail reform are admirable, we need to focus on what happens before sentences are even set. That means looking carefully at all the Indigenous people "who just shouldn't be in jail because they didn't do it," she says.
Canadians need to understand the meaning of miscarriage of justice needs through the lens of history, says Carling. That's why, unlike any comparable database from other countries, Carling proposed the Canadian registry include a timeline of injustice.
It keeps a detailed account of Canada's track record when it comes to wrongful convictions, from the expulsion of the French Acadian population in the 1700s and Louis Riel's execution for treason in the 1800s to the 2021 public consultation report by Justices Harry LaForme and Juanita Westmorland-Traoré calling for a commission on miscarriages of justice. Carling says it offers a visual means for Canada to face its past and strive for impactful change.
She plans to use a similar approach as CEO of the British Columbia First Nations Justice Council, a position she was named to in January of this year. The council's justice strategy is looking at reforming the justice system to be more responsive to the realities of Indigenous people and restoring Indigenous legal systems.
"I don't want to spend my whole career toiling at the edges and trying to make these incremental changes in a system that is inherently flawed," she says about the colonial legal system. "The system was purposively designed to disenfranchise, disempower and harm Indigenous people."
Roach, for one, doesn't doubt that Carling's work with the registry is only the beginning of her accomplishments. "Now she's in a position in B.C. to help dismantle that system for Indigenous people and replace it with Indigenous justice."