People
Profile
Helping lawyers find opportunity
Stephen Rotstein, the new CBA Vice-President, on the association's role in helping professionals transition to new ways of practicing law.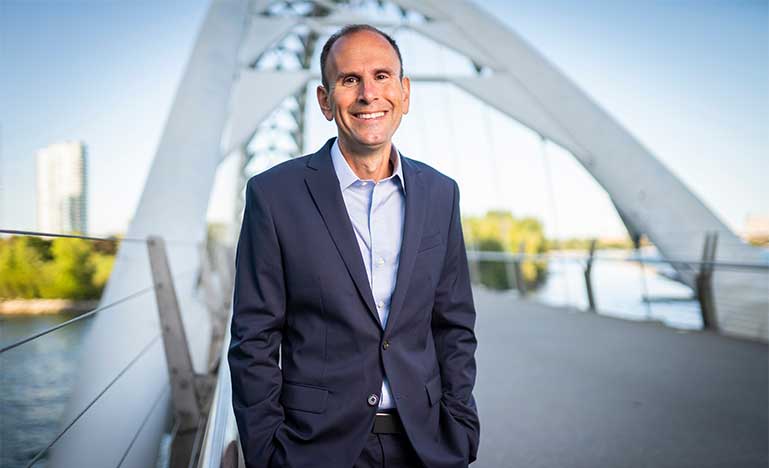 There was no "eureka" episode in the education of the young Stephen Rotstein — no moment when he looked over his options and decided to be a lawyer.
Given his background, it might have been strange had he decided to be anything else.
"Some people have these great origin stories … they can tell you exactly when they decided to study law. Me, I come from a family of lawyers — I am the third generation of lawyers," says Rotstein, director of Global and Domestic Affairs at the Ontario Securities Commission. He assumed the position of vice-president with the Canadian Bar Association this month. He'll take over as CBA president a year from now.
His family came to Canada over 120 years ago — his father's side from Austria-Hungry and Poland, his mother's side from Russia — determined to make the most of their opportunities. "My great-grandfather started out with a pushcart and then a general store in Muskoka, selling whatever goods he could get.
"His son, my grandfather, was the first to become a lawyer, getting called in 1922. His son, my father, went into law. My mother, in addition to being a poet and an author, is also a lawyer. My sister is a lawyer and currently practising in-house."
Family history taught him optimism and a sense of this country's possibilities. Growing up in a household where his father later went into banking made Rotstein alert to the way that studying law can open many doors.
"It gives you a great deal of latitude in life to do a lot of things," he says. In his case, law opened a door into government; after completing his LL.B at Osgoode in 1996, the young Rotstein worked for several Ontario cabinet ministers, including the late Jim Flaherty, when he was the provincial attorney general and later the finance minister. Rotstein also has worked in the private and the not-for-profit sectors, serving as general counsel to FP Canada and the Human Resources Professional Association.
"I've benefitted throughout my career from opportunities to work with great people in interesting roles."
That idea of foregoing the typical career arc to turn legal training to serve other goals, whether in the private, public or not-for-profit sectors, is something that appeals to a lot of lawyers, including younger ones, says Rotstein — and the CBA should be doing its best to help them realize their ambitions.
"This profession used to have a very linear career path — law school, articling position, junior associate position and on up to partner," he says. "But a lot of younger lawyers want to practice their profession a different way, by going into government or business. The CBA should be their home, too. We should be helping them find the career paths they'll find most rewarding."
Rotstein wants to reach out to them. "We need to act as a sounding board for a younger generation of lawyers," he says. "Their career arcs are going to look very different from those of older members of the profession. We need to be relevant to them."
A lot has changed in the past six months, of course — COVID-19 has brought uncertainty to the profession. Back in the spring, when the lockdowns started, some law firms imposed short-term layoffs or cut compensation to cope with a drop in business. Some postponed articling and summer law programs. For many recent law school graduates, getting a career started during a pandemic has felt like swimming upstream.
The pandemic has rapidly changed how lawyers work, and Rotstein sees a central role for the CBA in helping the profession make the transition. "Our association has been modernizing for years, providing more online learning resources, for instance," he says. "The demand for those services has ramped up substantially over the last six months."
But the law, again, has a way of opening doors. The pandemic pushed large and small firms to offer more online services.
"The profession that young lawyers are entering into is going to be vastly different from the profession of just a few years ago," says Rotstein. "I have heard from both big and small law firms and solo practitioners how they have moved their practices online to serve their clients. Some are considering making this permanent, so they will run virtual law firms."
Those changes, he says, will create "new opportunities" for firms to operate almost entirely online, and expand without running into heavy overhead.
"Without some needing physical offices, there will be lower barriers to setting up their own practices, while other firms can expand without space constraints or restricting their workforce based on geography," he says.
"CBA will need to evolve, like law is evolving, to meet the needs of our members and ensure their success."
Rotstein sees a role for the CBA in putting the optimism and ideals of its membership to good use. He says he's proud of the work the CBA does in connecting lawyers with opportunities to volunteer their skills abroad and wants the association to do more to support the work of its volunteers here at home.
"They're our greatest resource," he says. "They give their time to the branches and sections and we couldn't do our work without them. We need to give them the staff support and resources they need.
"Our international programs are one way to contribute, but there are many others. Our members contribute their time and expertise to our board, committee, sections, conferences and professional development programs. We are continuing to look at other ways for our volunteers to stay connected, including partnerships with other organizations. This is an area I want to expand on when I became president.
"Young lawyers want to find meaning in what they do, a social purpose to legal work that they can believe in. And I think the CBA can help with that."