Law
Business & corporate
Competition Commissioner charts ambitious course
Matthew Boswell puts into action his plan for a more robust enforcement strategy.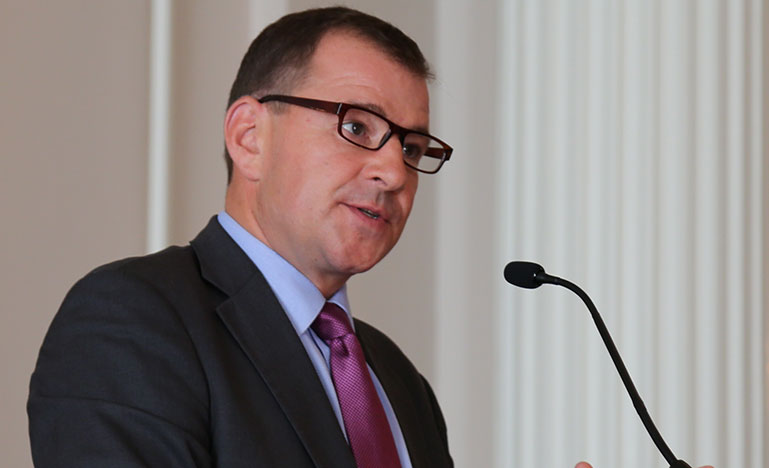 With a promise to vigorously enforce and promote competition in sectors of the economy that matter to Canadians, new Commissioner Matthew Boswell outlined his ambitious vision for a more aggressive Competition Bureau in a speech at the Canadian Bar Association's Competition Law Spring Conference in May.
Active enforcement will be a focus, he said, including more frequent use of tools, such as injunction applications and seeking the court's assistance to resolve disputes related to the Bureau's investigative work. Boswell also presented a big-picture vision for the Bureau to be among the world's leading competition agencies in monitoring the digital economy. He wants to make the Bureau more agile in adapting to changes—particularly technological—in the economy.
As well as using all the tools at the Bureau's disposal more often—including injunction applications— Boswell plans to continue to prioritize detecting, investigating and prosecuting criminal cartel matters, which he described as "the supreme evil of antitrust."
He added that principled cases will be brought forward and moved to litigation when a reasonable and appropriate consensual resolution can't be reached. In particular, the Commissioner has identified telecom, pharmaceuticals and infrastructure as areas drawing his interest.
The speech "set the tone for the Bureau's enforcement strategy going forward," says Anita Banicevic of Davies Ward Phillips & Vineberg in Toronto. One of Banicevic's biggest takeaways is the Bureau's intention to become involved in transactions that don't exceed a certain monetary threshold and are not subject to mandatory pre-notification and review.
"I think we're all on notice that there is an intention to be much more active in the enforcement side of things," she says.
"We are definitely seeing an increased number of transactions that are being reviewed that are in that non-notifiable category," Banicevic says. She adds that "also the use of tools like oral interviews in the merger context have to date been unusual. So the fact that we're seeing more of these types of questions, I think it does signal a more aggressive enforcement stance from the Bureau."
Lawyers working on a transaction should know that "it's important to keep Competition counsel abreast, even if you are below the threshold," says Banicevic. It has become more critical to bring in Competition counsel at an early stage of any transaction planning. "You can't assume that there are not going to be any questions that come from the regulators."
In a very public example of a transaction that was not subject to Competition Act pre-merger notification, the Commissioner filed a notice of application in June that challenged American private-equity investment firm Thoma Bravo LLC's acquisition of Canadian software company Aucerna. The Bureau alleged that the transaction would combine the two largest Canadian reserves software suppliers, resulting in a substantial lessening of competition.
The Bureau believes the acquisition represents a monopoly within a fairly narrow market, says Anthony Baldanza of Fasken Martineau DuMoulin in Toronto. "The Bureau picked this up through its new intelligence unit for identifying non-notifiable transactions."
In his May speech, Boswell pointed to the rapid global rise of the digital economy that requires competition authorities to collaborate and cooperate almost daily. He said the Bureau plans to engage internationally in a targeted fashion owing to limited resources.
The Bureau has since hired a chief digital enforcement officer to support its enforcement work in the digital economy. This hire indicates that there is much to learn about the digital landscape. Although the underlying issues are not new, the Bureau is presented with somewhat novel facts, says Baldanza. The Bureau is "going to work on investigative techniques and intelligence-gathering capabilities to do their job better."
Boswell also signaled a more assertive approach to the efficiencies defence, in which the Bureau can still permit a competitive merger to proceed if it generates efficiencies that offset and outweigh the anti-competitive effects. This refined procedural approach calls for the provision of detailed evidence supporting the efficiencies claimed; the ability to test the evidence underlying those claims; and adequate time, set out in a timing agreement, to conduct a meaningful assessment of the efficiencies claimed.
"I am highly unlikely to exercise my enforcement discretion and not challenge a potentially anti-competitive merger without reliable, credible, and probative evidence that supports and validates the efficiencies defence being advanced," Boswell said in May.
Since merging parties are very preoccupied with getting deals through in a timely fashion, "this all looks somewhat discouraging to the efficiencies defence," says Baldanza. "And he's basically saying if you don't abide by this I'm going to challenge the merger. Whether he actually does that, it remains to be seen. But" Baldanza adds, "I don't think many Commissioners have been fans of the defence."
Although the overall message is that despite taking a more robust adversarial approach, it is uncertain whether the Bureau has the human and financial resources to do what the Commissioner has outlined, says Baldanza. "They've had in the past problems in that area resourcing their various initiatives."
There has been no announcement of an increase to the Bureau's budget, and Baldanza said injunctions can get very expensive.
"So it's a question of how they get all that done. That means some things will have to be sacrificed. And I don't think they'll find enough money just in trimming back the international engagements," he says.
For her part, Banicevic is not surprised there's been talk of more active enforcement, but wants to see the Bureau take a balanced, evidence-based approach that looks carefully at the facts to determine whether there is genuinely an issue. "Because I think that over-enforcement can also be quite damaging to innovation," she says.